Marc Chagall lithograph "The Market Criers"
Nr. 1842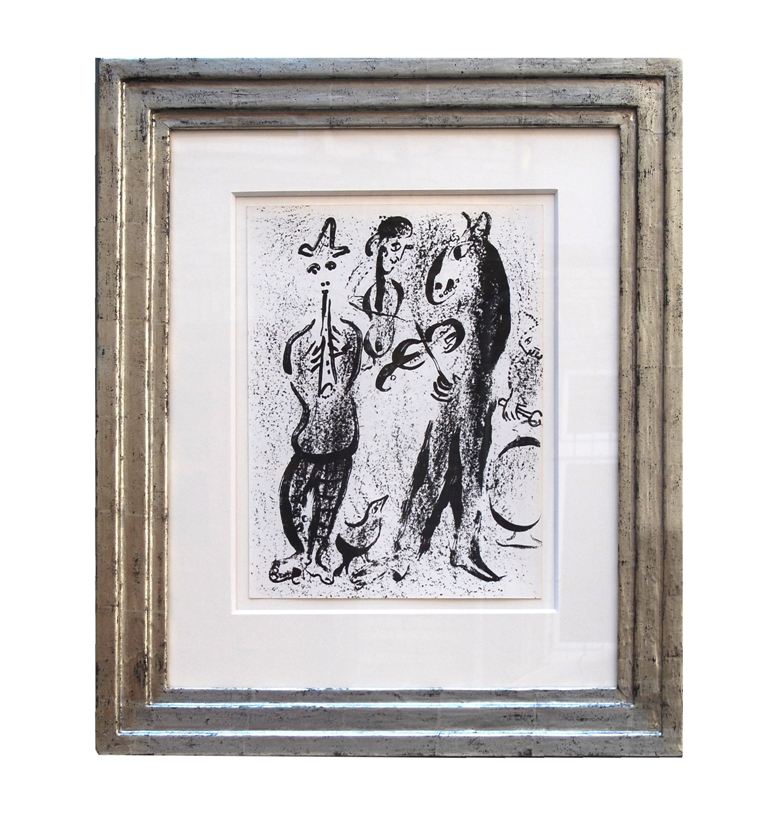 Marc Chagall lithograph
"The Market Criers"
Marc Chagall (*1887 Vitebsk (RU) – †1985 Saint-Paul-de-Vence (FR)).
Original lithograph, 1964. Murlot-No.393.
Catalog raisonné: M.395.
Height: 32 cm / 56 cm | Width: 24 cm / 47.4 cm
Price: 2.200,– €
(including 19% VAT that can be claimed back)
Marc Chagall lithograph
The lithograph "The Market Criers" is a work of art by the Russian-French painter Marc Chagall. The image shows a group of market criers loudly promoting their goods in a busy marketplace.
Chagall created the artwork in the 1950s, and it is part of a series of lithographs he made on various themes. "The Market Criers" is one of his most famous works and displays Chagall's typical style, characterized by surrealist elements and vibrant colors.
Today, the artwork is part of many important collections in museums around the world and is often considered an example of Chagall's unique artistic expression and his ability to convey emotions and moods in his works.
Marc Chagall
Marc Chagall (1887-1985) was a Russian-French painter and graphic artist of the 20th century. He was born in Russia and studied in St. Petersburg and later in Paris, where he established himself in the art scene. Chagall was known for his unique style, which combined elements of Cubism, Surrealism, and Expressionism. His works were characterized by bright colors, fantastic elements, and a poetic mood.
Chagall created a variety of artworks, including paintings, watercolors, drawings, and graphics. Many of his works contained biblical and Jewish motifs, often connected to his own life story and memories of his hometown of Vitebsk. He was also known for his depictions of circus scenes, city views, and landscapes.
Chagall had a long and productive career that spanned several decades. He received numerous awards and honors for his work and is considered one of the most important artists of the 20th century. His works can be found in many prestigious museums and galleries around the world.
Contemporary art at RSA Wiesbaden
You can find many artworks and art objects at RSA Wiesbaden. Regine Schmitz-Avila – your art specialist for lithographs, oil paintings, and etchings.