Dainty daffodil table by Gallé
Nr. 2163 | 1.800,– Euro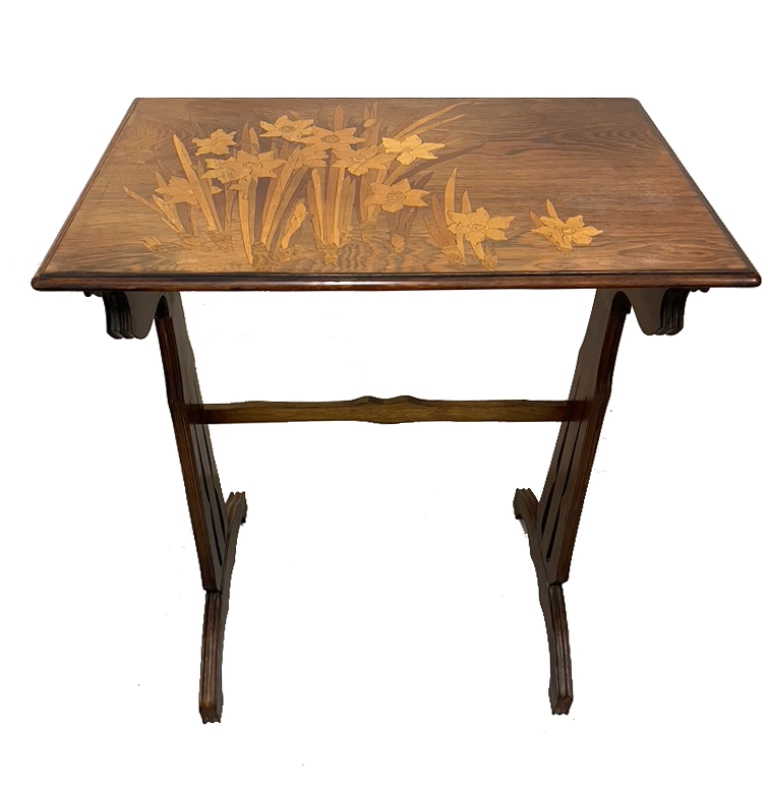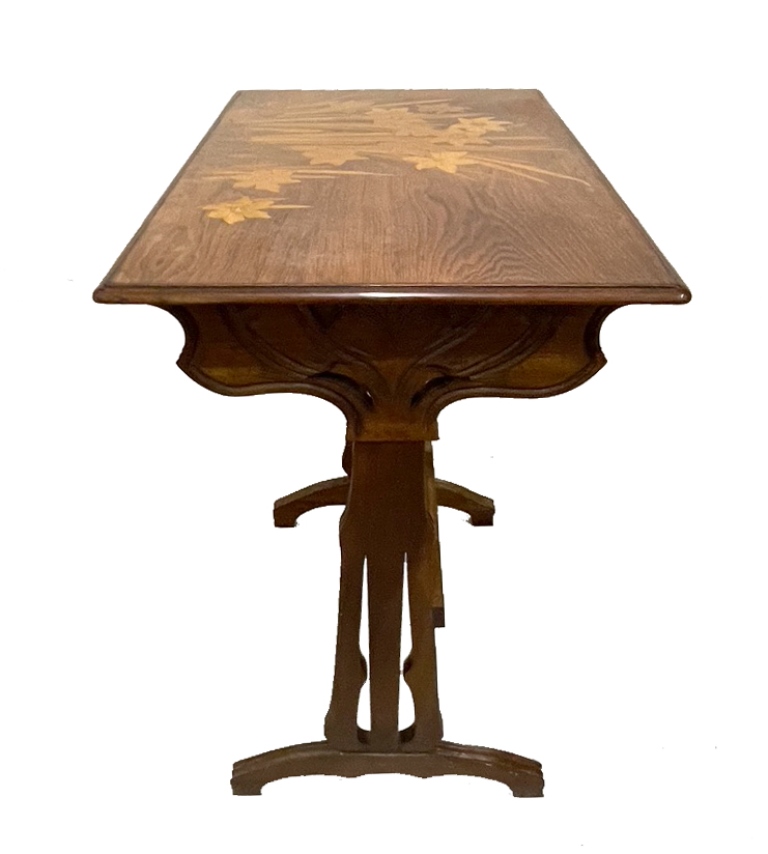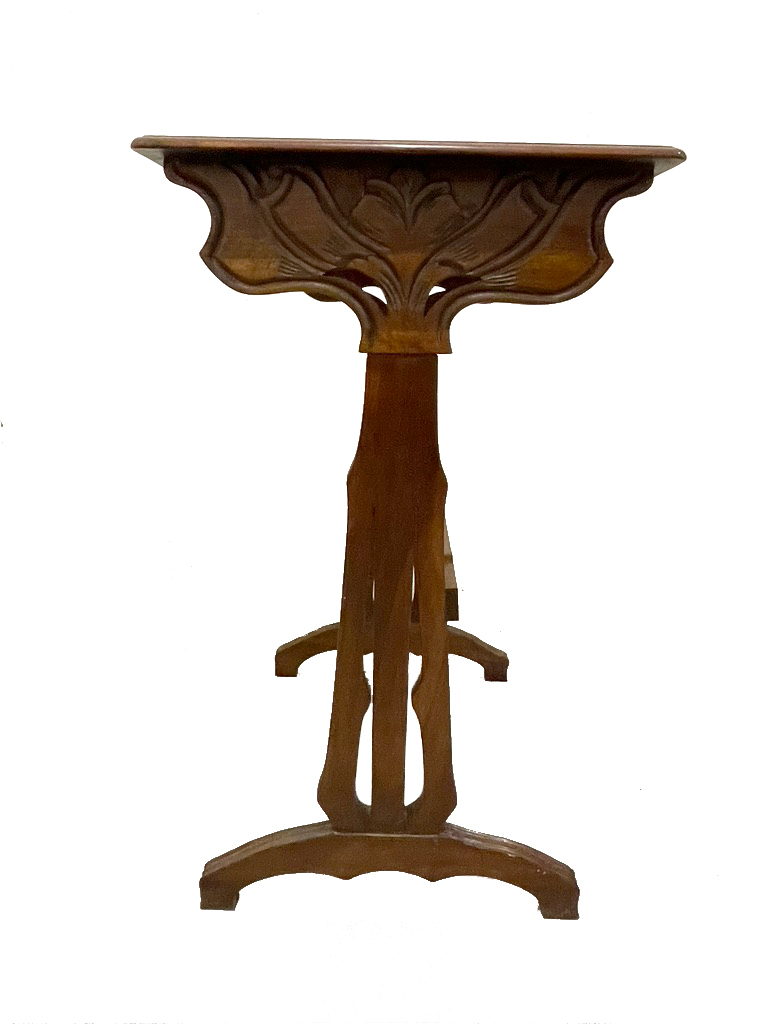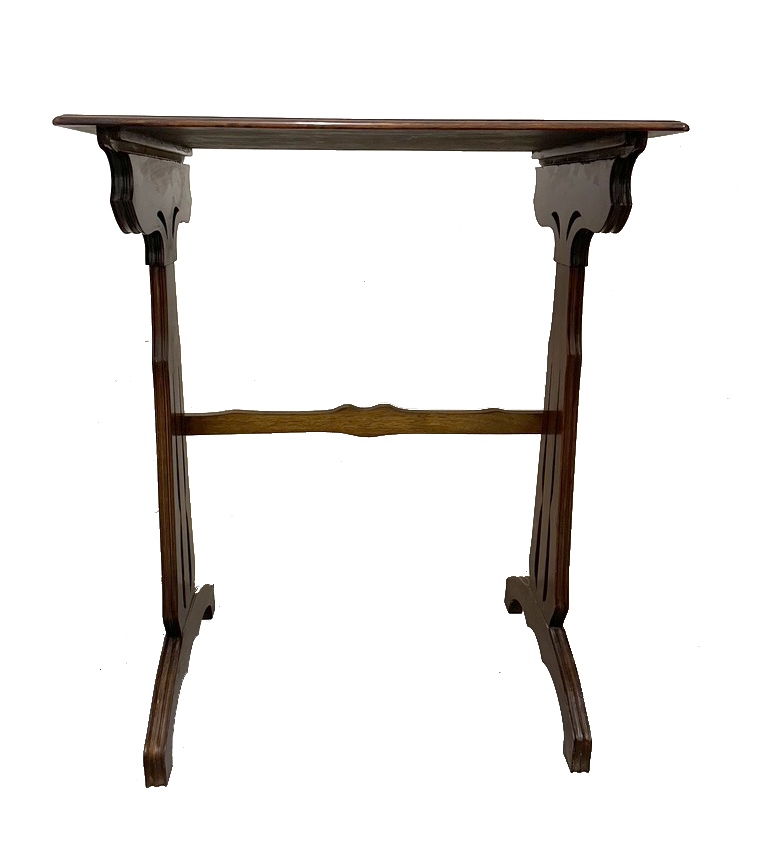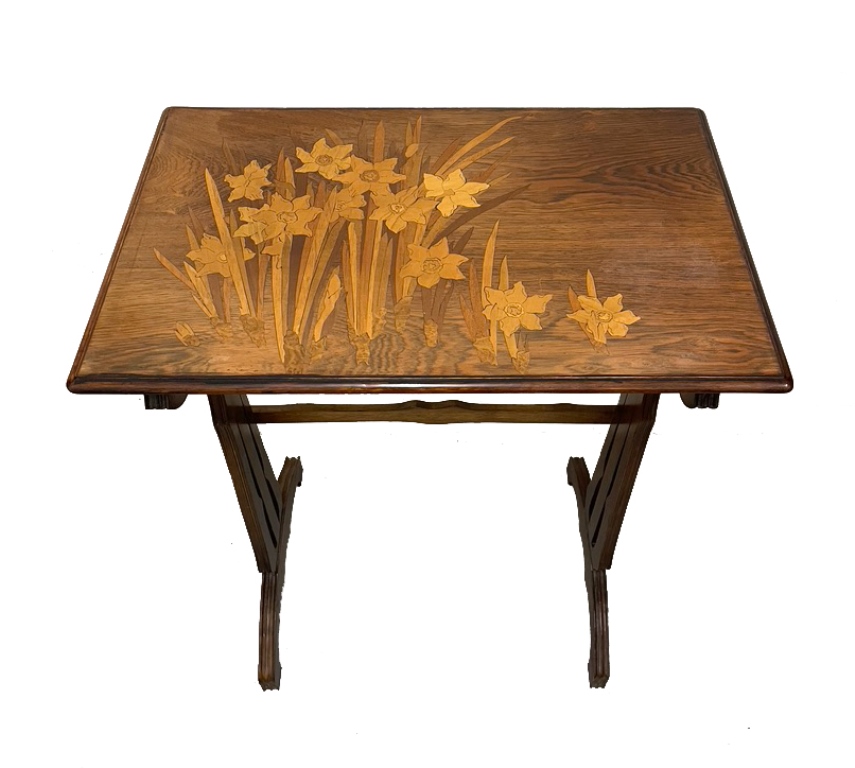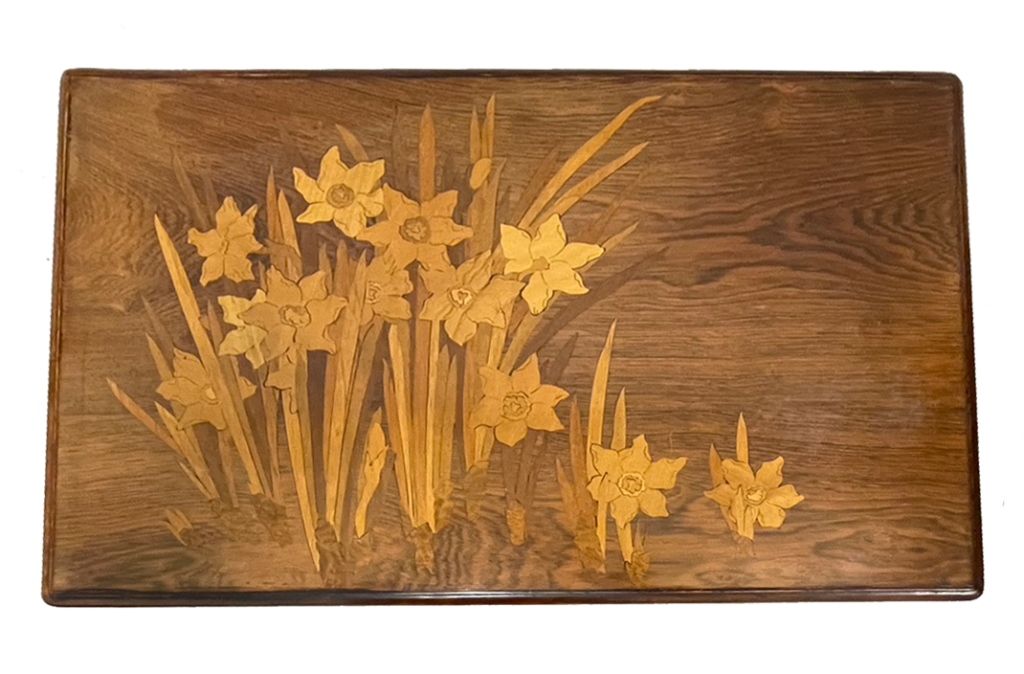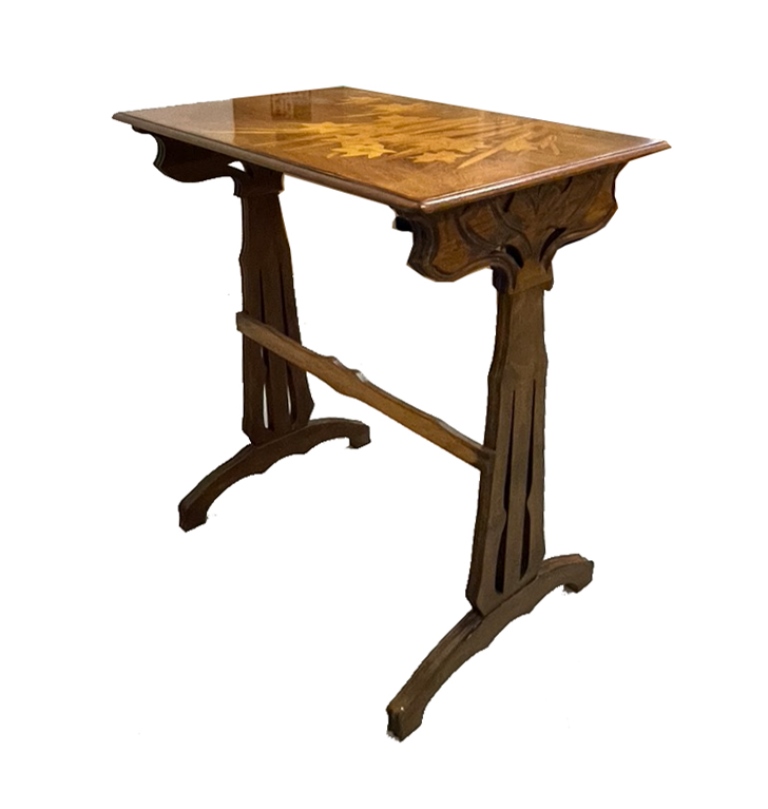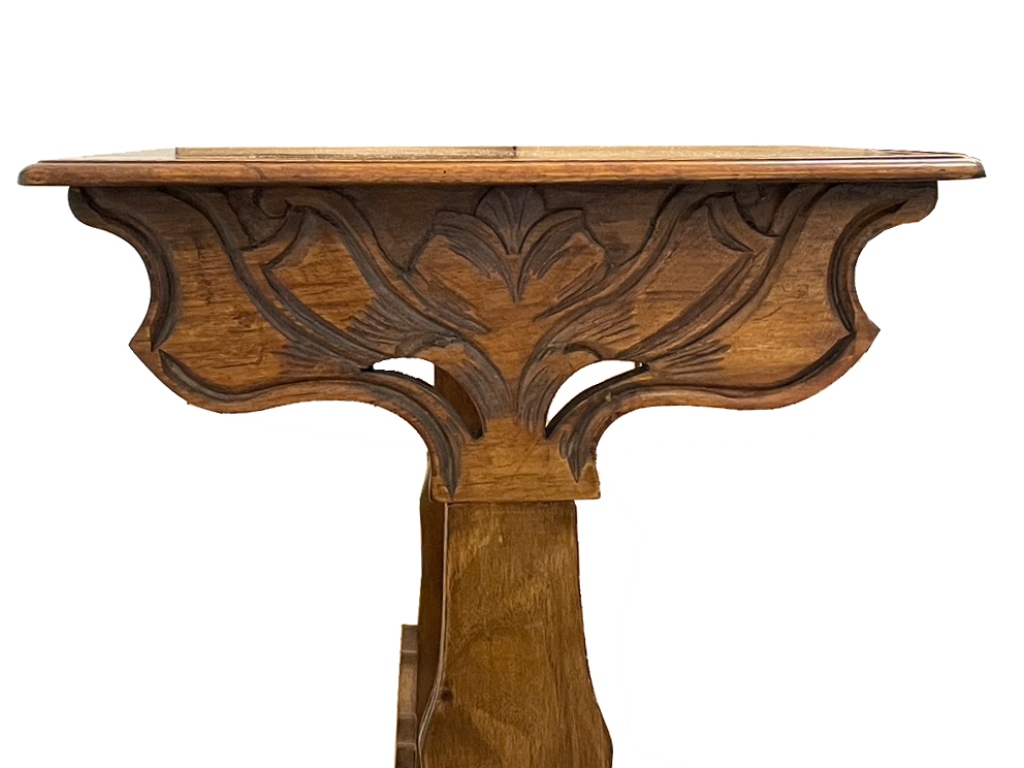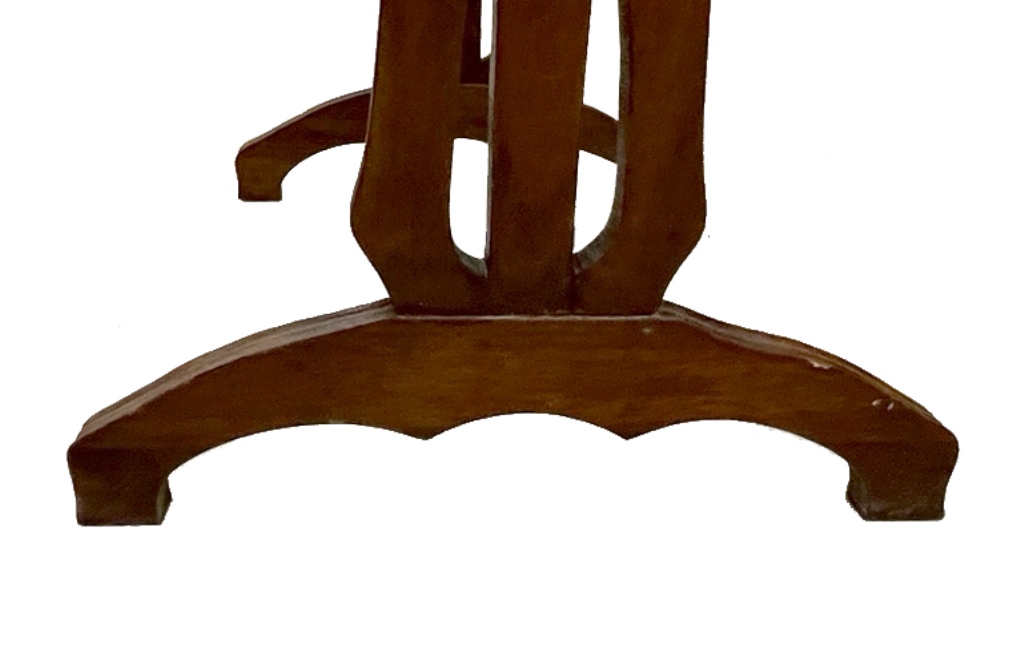 ( 1846-1904)
Dainty daffodil
Nancy / France.
Around 1900.
Walnut veneered with inlays in various precious woods.
Original state of preservation.
Provenance: private collection Hessen
Price: € 1.800,–
Height: 71.5 cm | Width: 59 cm | Depth: 38.5 cm
Dainty daffodil table by Gallé
The "Dainty Daffodil Table" was created by Gallé in Nancy, France around 1900. This piece is made from walnut veneer with inlays of various precious woods and has an oval shape. Inlays form a pattern of daffodil blossoms, which gives the table its name.
The table is in its original state of preservation and is currently located in a private collection in Hessen. A good condition of the piece shows that it has been carefully maintained and preserved over the years.
The inlays made from various precious woods demonstrate the craftsmanship and attention to detail that was typical of the Art Nouveau era in which the table was made. The combination of walnut veneer and the inlays gives the table a warm and luxurious appearance.
Gallé was one of the most well-known designers of the Art Nouveau movement in France and was famous for his work with glass, furniture, and ceramics. The "Dainty Daffodil Table" is an outstanding example of his furniture design and is a valuable collectible for lovers of Art Nouveau.
The table is a striking piece of furniture that adds an elegant and luxurious touch to any room and is a statement piece in any collection of antiques and designer furniture.
Emile Gallé
"How noble are the nuances Gallé coaxes from the heart of the oak, what a harmonious contrast of tones when a leaf stands out from the color of the trunk." (Marcel Proust)
It can hardly be expressed more beautifully – Marcel Proust describes his friend Emile Gallé or his work.
And another expresses it this way:
"From every line of a grain, a new harmony flows into the eyes. A slight depression in the terrain, the flow of a stream, a small irregularity in the grain, which could come from a branching, becomes a cloud. The marquetry completes the picture. One senses, one knows the secrets that the heart of a felled tree entrusts to a master craftsman like Gallé; the essence of a tree speaks through him." Count Robert de Montesquiou, 6th chapter of his work "Les Roseaux Pensants."
Art Déco bei RSA Wiesbaden
You can find more Art Deco cabinets, Art Deco chests of drawers and Art Deco lamps in my shop in Wiesbaden. Regine Schmitz-Avila – your specialist for French Art Deco furniture and art objects from around 1930.