Striding big panther
Nr. 2232 | 3.750,-- Euro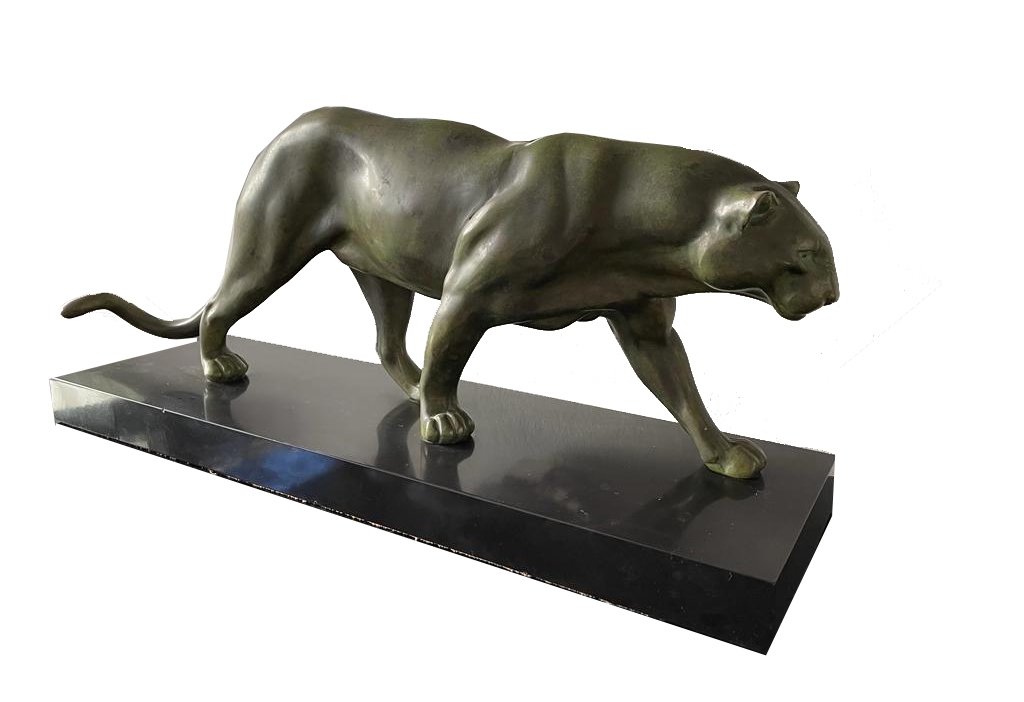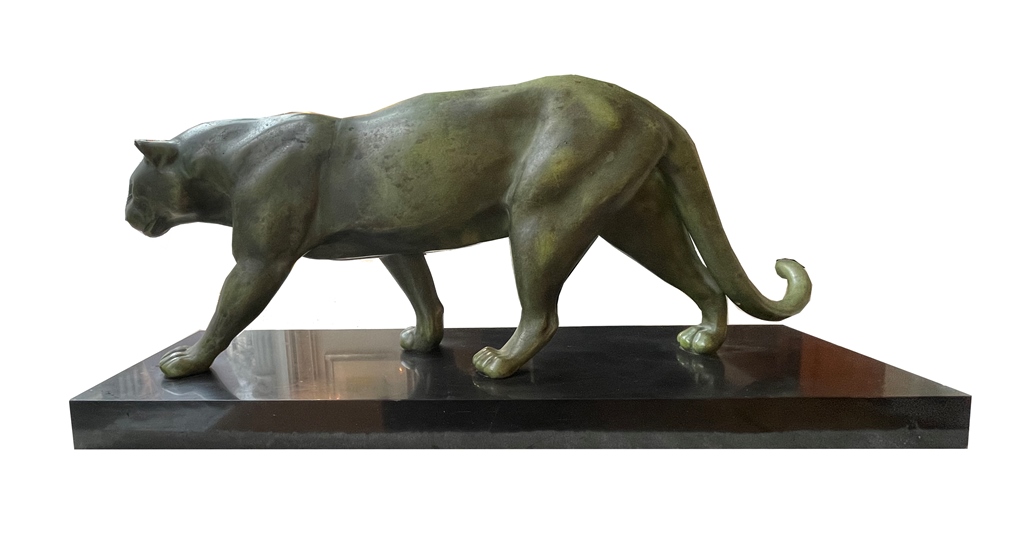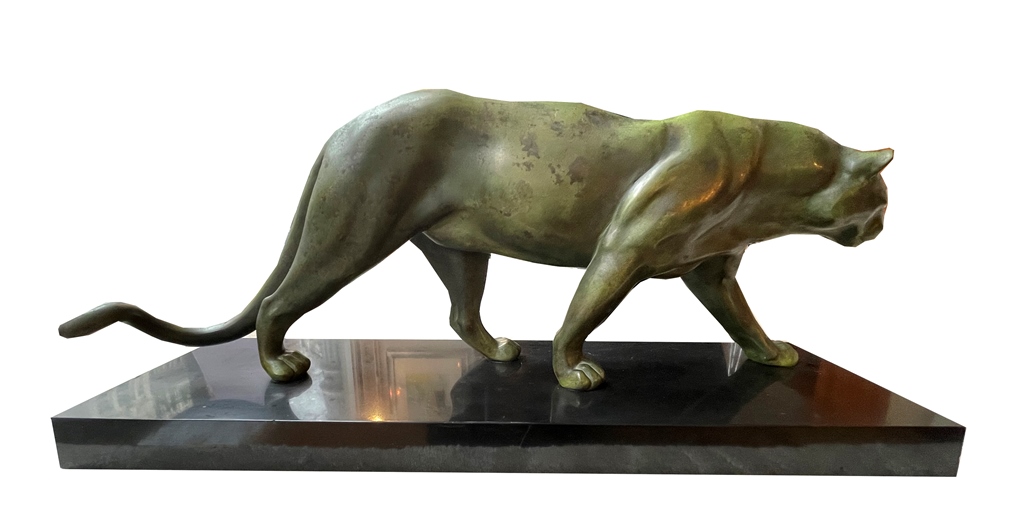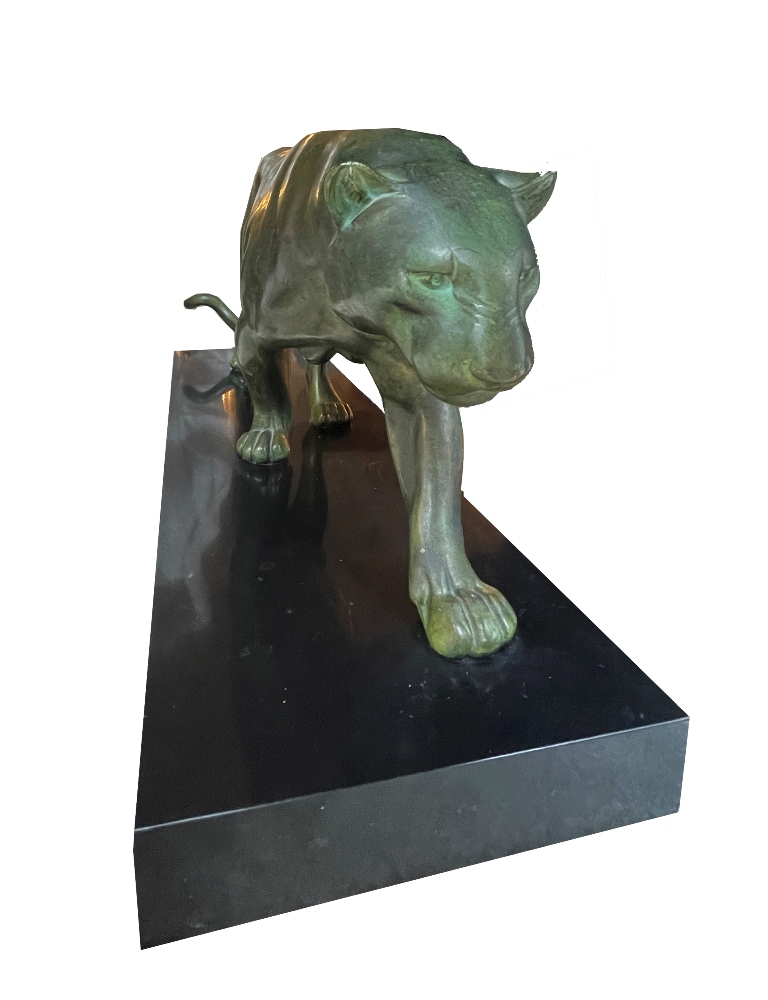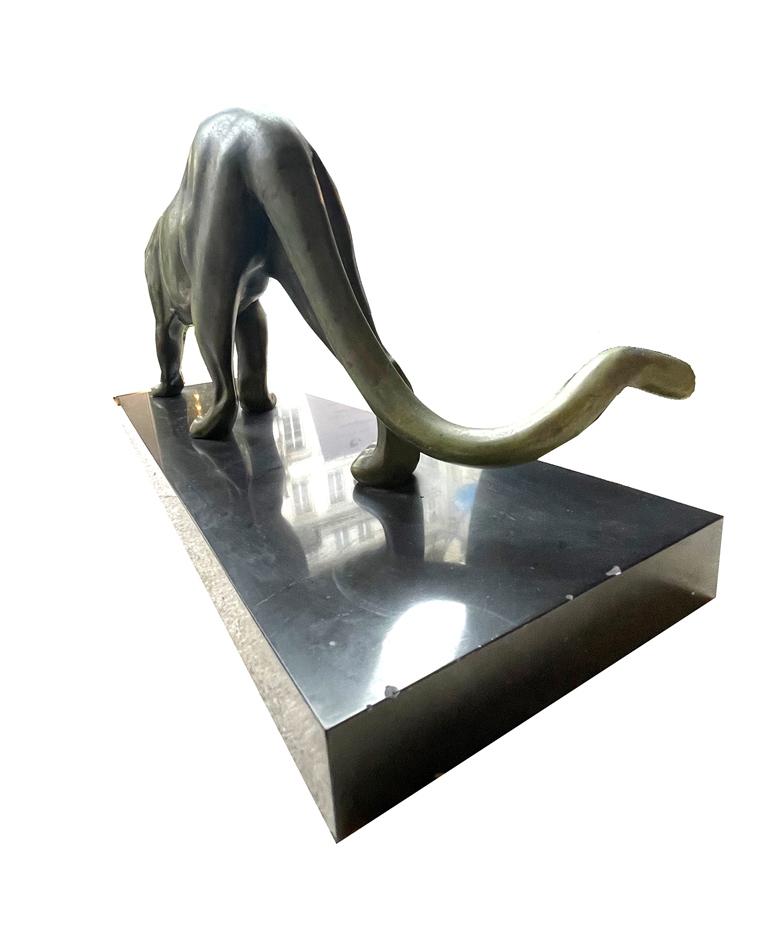 Art Deco
Stepping panther, France around 1930
Striding big panther
White bronze with green patina on a black marble base.
Height: 30 cm
Width: 65 cm
Depth: 19.5 cm
Price: 3.750,– €
(including 19% VAT that is deductible)
Striding big panther
Art Deco panther is cast in white bronze.
The panther is a popular motif in art, symbolizing strength, elegance, and beauty. The sculpture is designed in the Art Deco style known for its geometric shapes and clean lines.
White bronze is an alloy of tin, copper, and lead, appreciated for its durability and beauty. It has a silvery shine and is often used for artwork and jewelry. In this case, it has been patinated in green.
This striding big panther is a timeless piece of art and that makes a stunning impact in any space. It suits both modern and classic interior styles and is an investment in a beautiful and long-lasting work of art.
Museums in France where Art Deco bronzes and panthers are exhibited:
Musée des Années 30 (Museum of the 1930s)
This museum in Boulogne-Billancourt near Paris is dedicated to the Art Deco era and showcases an impressive collection of Art Deco objects and sculptures and bronze panthers.
Musée des Arts Décoratifs (Museum of Decorative Arts)
The Musée des Arts Décoratifs in Paris houses an extensive collection of Art Deco artworks, including bronze animal sculptures.
Musée d'Art Moderne de la Ville de Paris (Museum of Modern Art of the City of Paris)
This museum displays 20th-century works and may include some Art Deco sculptures, including bronze panthers.
Musée de la Piscine (Swimming Pool Museum)
This museum in Roubaix features a collection of artworks and design objects from the Art Deco era, including bronze panthers.
"The Panther" by Rainer Maria Rilke In the Jardin des Plantes, Paris
His gaze has become tired from passing by the bars, so that nothing holds it anymore. It is as if there were a thousand bars, and behind a thousand bars, no world.
The soft, supple gait of powerful strides that circles in the tiniest of circles is like a dance of strength around a center, where a great will, dazed, stands.
Only sometimes does the curtain of the pupil silently rise. Then a picture enters, passes through the taut stillness of the limbs – and ceases to exist in the heart.
Rainer Maria Rilke –
This powerful striding big panther could have its place on this Art Déco Sideboard.
Art Deco at RSA Wiesbaden
You can find more Art Deco cabinets, Art Deco chests of drawers and Art Deco lamps in my shop in Wiesbaden. Regine Schmitz-Avila – your specialist for French Art Deco furniture and art objects from around 1930.