Joan Miró lithograph
Nr. 1854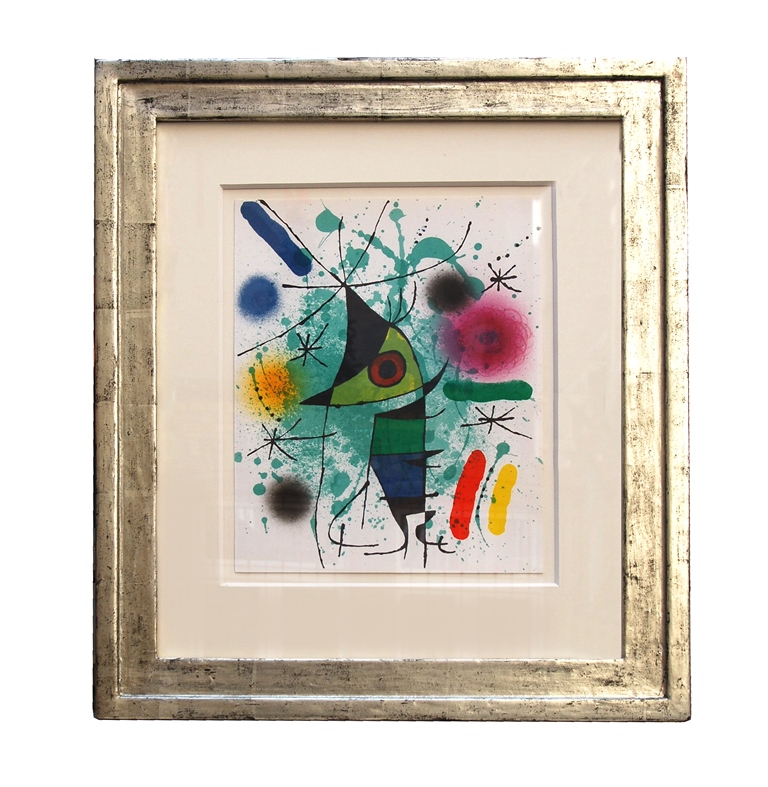 Joan Miró lithograph
"The singing fish"
Litograph 1972.
Joan Miró (1893- 1983).
Height: 34 cm / 57 cm | Width: 25 cm / 47 cm
Catalogue raisonné: M.867
Joan Miró "The singing fish"
The Singing Fish is a well-known 1967 lithograph by Spanish artist Joan Miró. The work depicts a bizarre, organic creature composed of lines and shapes, surrounded by a luminous blue background.
Miró was known for his abstract, surreal works inspired by nature and the imagination. In "The Singing Fish" he shows such a creature that seems to spring from the viewer's imagination. The shapes and lines are reminiscent of the structures of fish and other sea creatures, but at the same time they are completely abstract and independent.
The colors of the lithograph are also typical of Miró. The background is a vibrant blue, while the creature is colored in various shades of red, yellow, and green. These colors create a vibrant, surreal mood that is characteristic of Miró's work.
The Singing Fish is one of Miró's best-known works and is often cited as an example of his unique blend of abstraction and imagination. It was printed in an edition of 75 and can now be found in numerous public and private collections.
Contemporary art at RSA Wiesbaden
You can find many artworks and art objects at RSA Wiesbaden. Regine Schmitz-Avila – your art specialist for lithographs, oil paintings, and etchings.