German elegant mirror around 1780
Nr. 686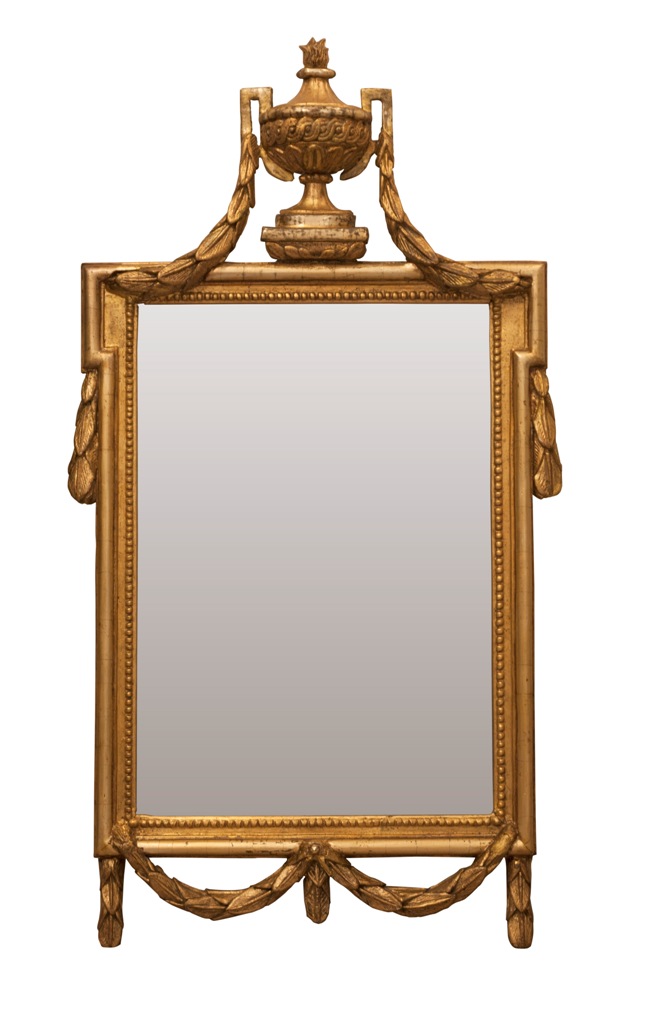 German elegant mirror around 1780
Wood carved and gilt. Original reflecting glass. From an amphora bekrönt this elegant mirror will find itself, in addition, which during the lower sales of the mirror again from carved and gilt laurel garlands decorated.
An original product of German sculpture.
Height: 86 cm (33,9 inches) | Width: 48 cm (18,9 inches)
German elegant mirror
The art of mirrors and furniture around 1780 was characterized by a transitional style between the Rococo and Neoclassicism. This style is often referred to as the "Louis XVI style," as it emerged during the reign of King Louis XVI in France.
During this time, furniture was often designed symmetrically and linearly, with elegant but restrained embellishments such as carvings and inlays. The color palette was mostly pastel-colored, and fine woods such as mahogany or cherry were frequently used.
Mirrors were an important part of interior design and were often designed as part of furniture such as dressing tables and chests of drawers. Delicate mirrors with curved lines and decorative elements were typical of this period.
In art, portraiture and landscape painting were popular. Influences from antiquity and mythology were often integrated into the artworks.
Overall, the art of mirrors and furniture around 1780 was characterized by elegance, symmetry, and restrained embellishments, reflecting the transition from the Rococo to Neoclassicism.
Louis Seize at RSA Wiesbaden
You can find more Louis Seize art objects as well as Louis Seize mirrors, Louis Seize chests of drawers, and much more in my store in Wiesbaden. Regine Schmitz-Avila – your specialist for Louis Seize.