Empire-Pendule with Cupid
Nr. 1185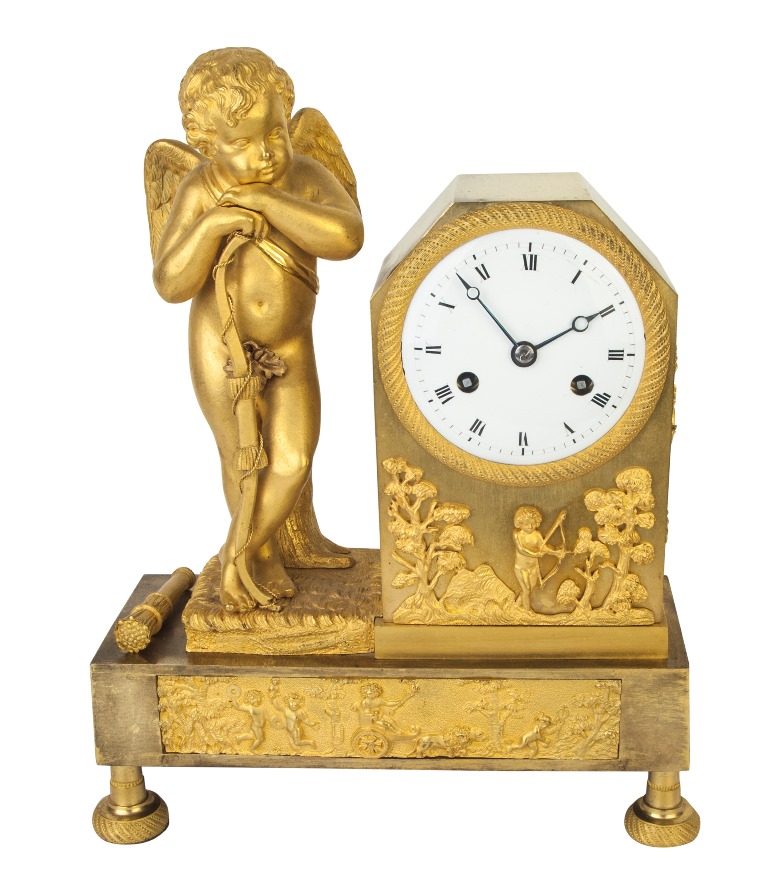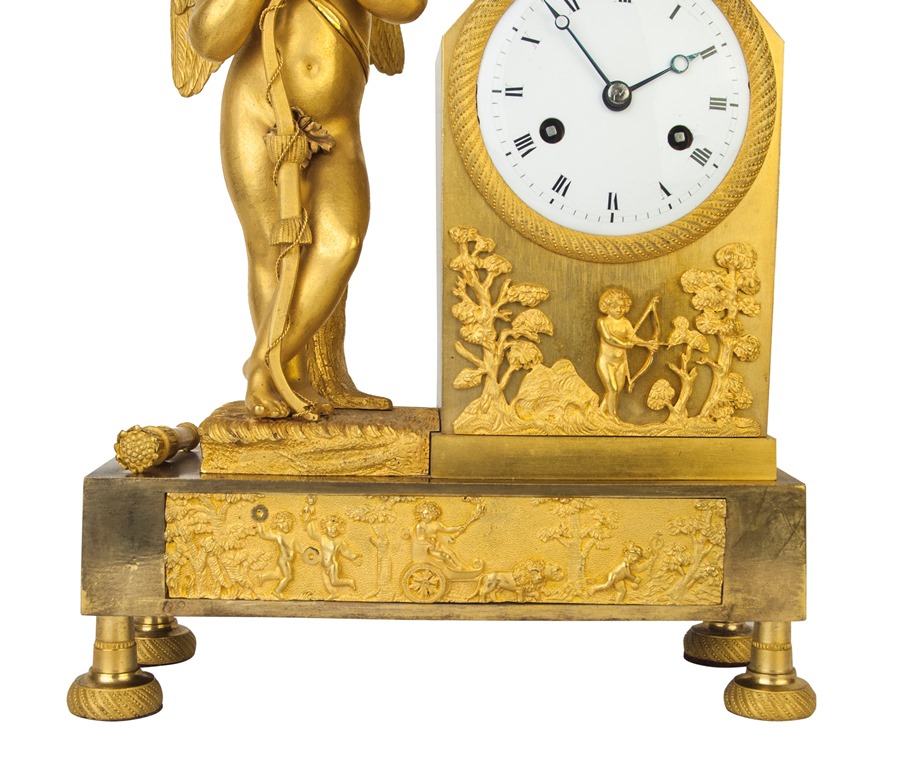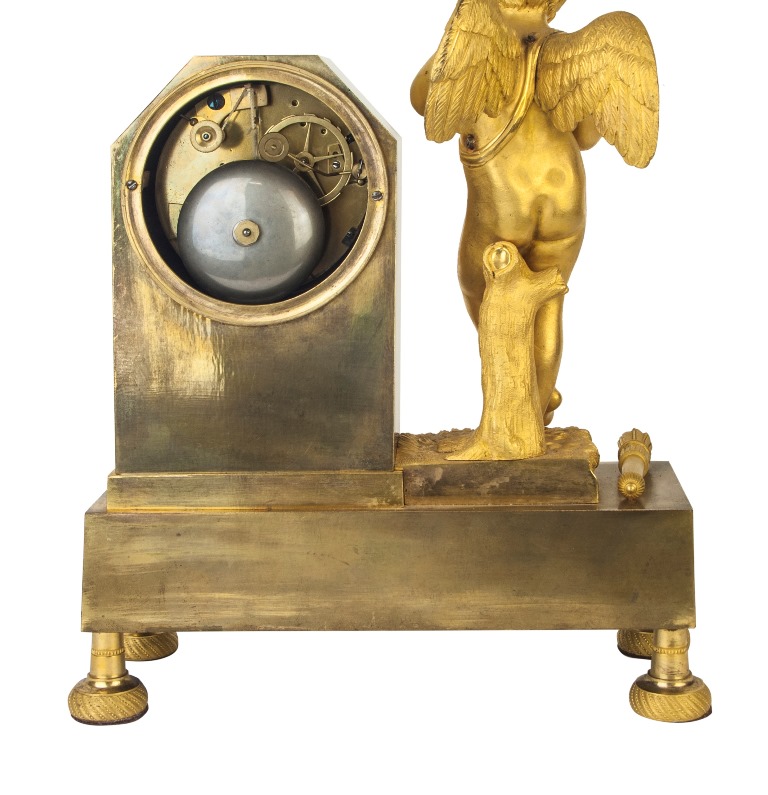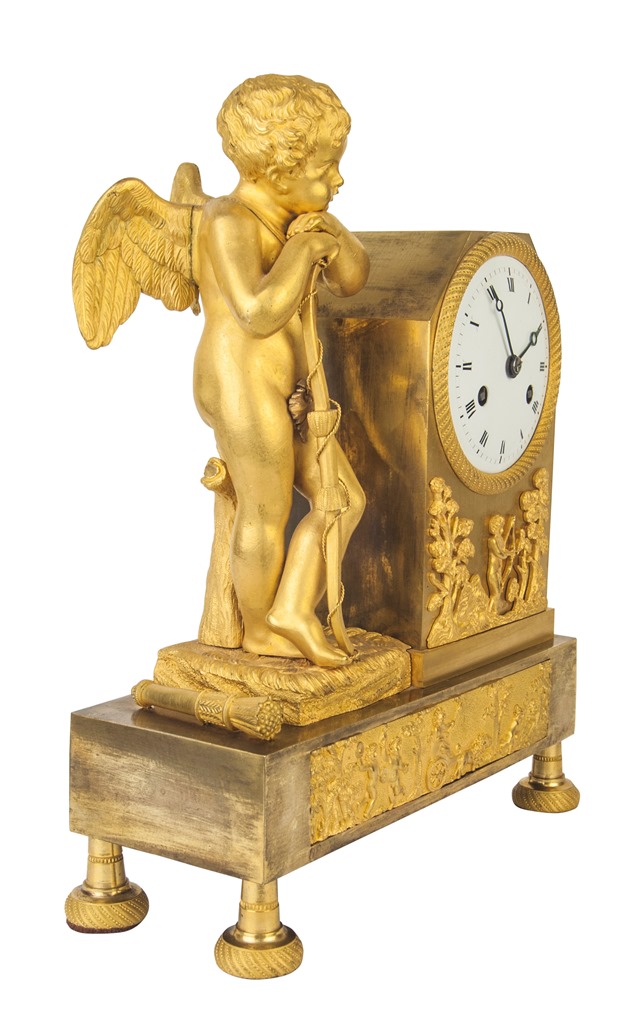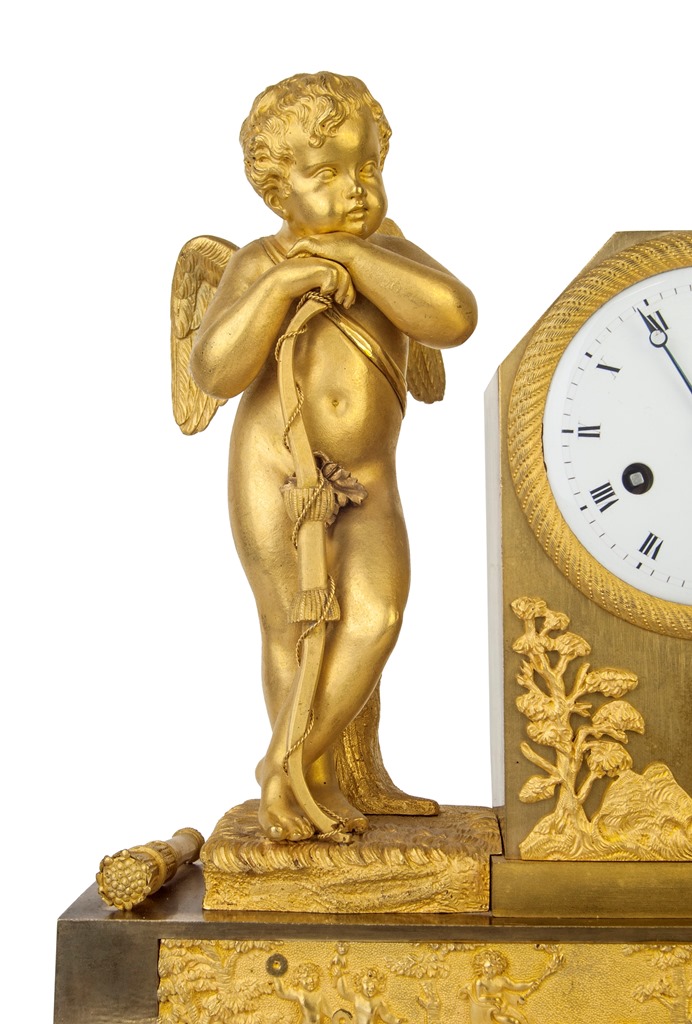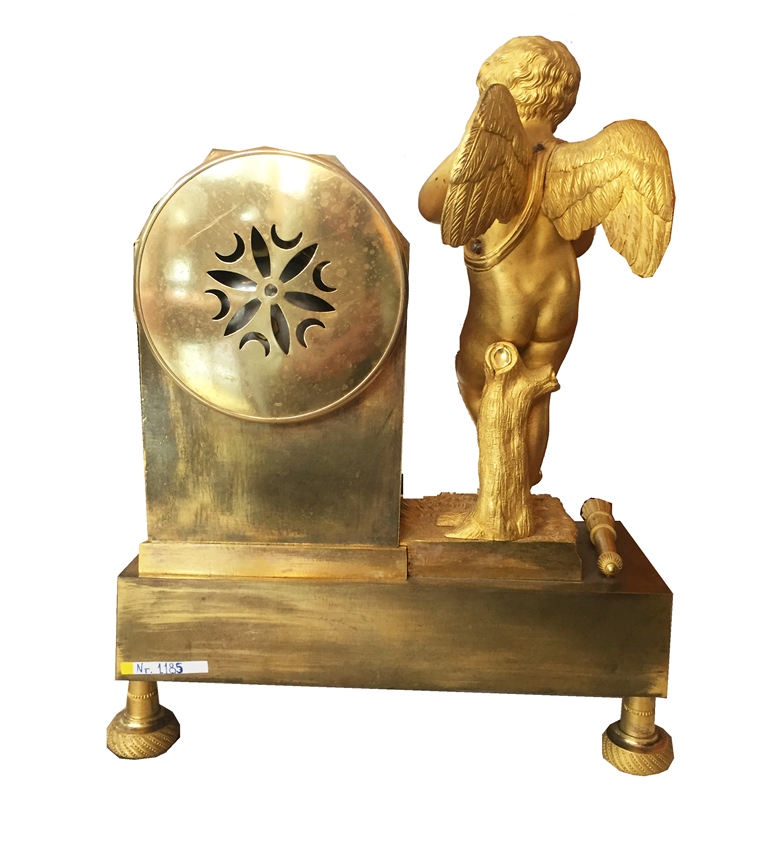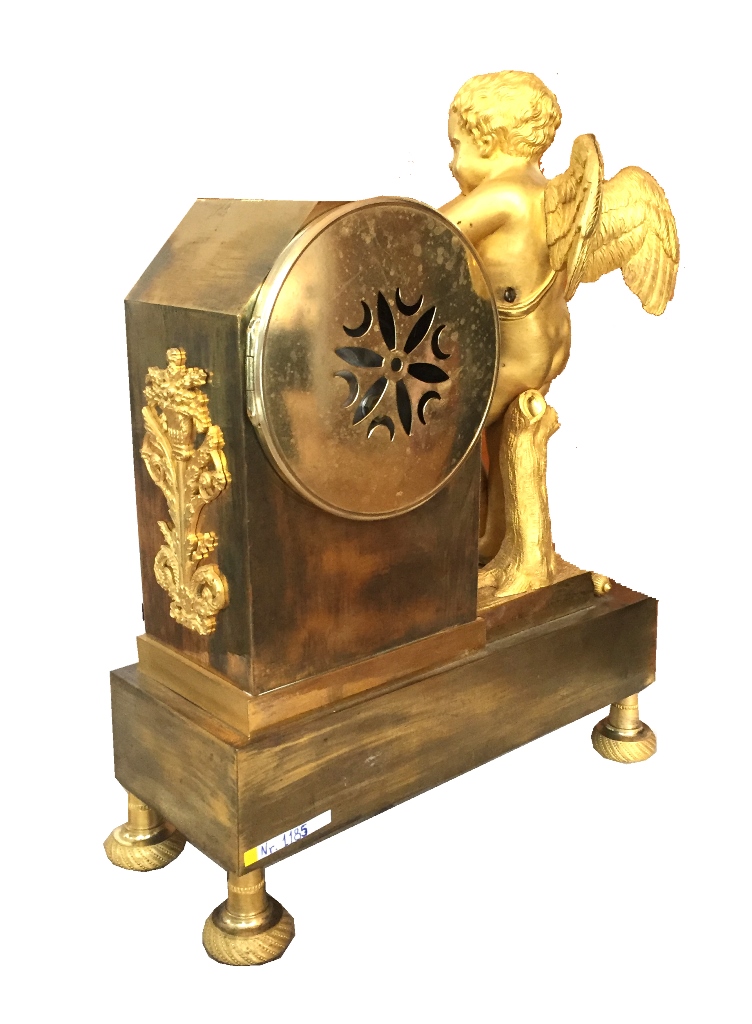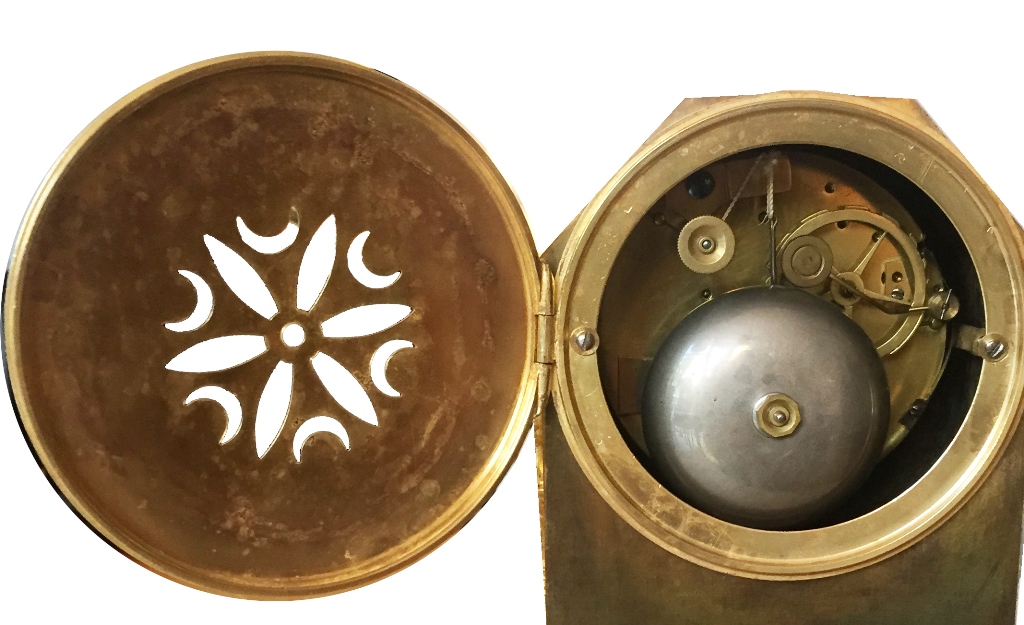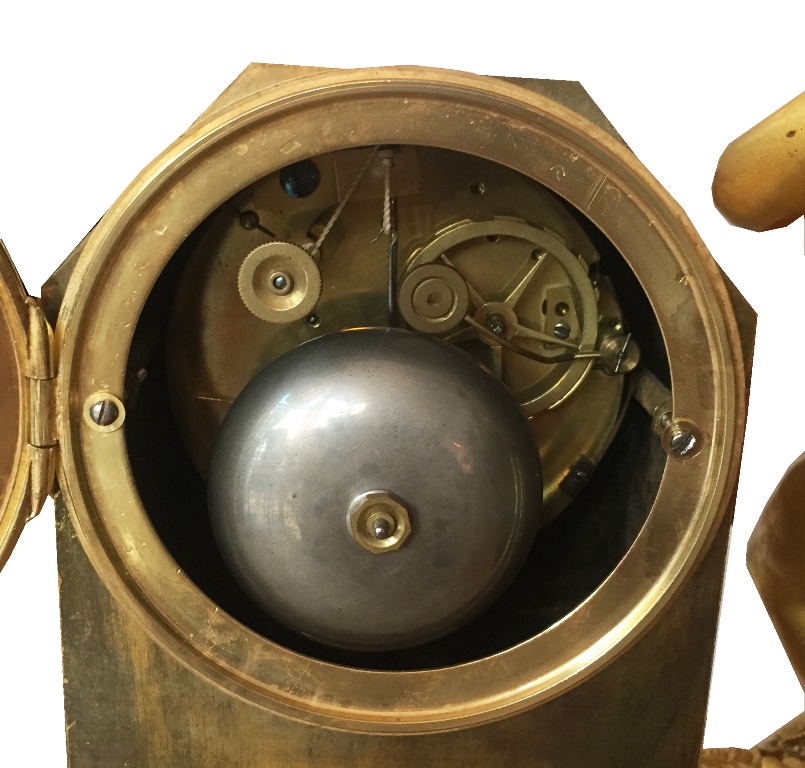 Empire-Pendule with Cupid, France around 1810.
Fire-gilt bronze well chases with enamelled figure sheet, 8-days work.
Filing this position of Cupid, supported on his curve, the arrows in the quiver, the time symbolises as a possibility of the reflexion.

Height: 29 cm (11,4 inches) Width: 23 cm (9,1 inches) depth: 9 cm (3,5 inches)
Empire-Pendule with Cupid
An Empire pendulum clock , produced in France around 1810, is a classic example of the decorative arts of the early 19th century. The Empire style was a popular artistic movement in Europe from 1800 to 1815, characterized by its clear, geometric forms, pronounced elegance, and elaborate ornamentation.
A typical Empire pendulum clock is made of a variety of luxurious materials such as gilt bronze, marble, and crystal, and is adorned with decorative elements such as animal figures, laurel wreaths, and mythological creatures. In this particular clock, the cupid figure is often found sitting or standing atop the clock, playing a musical instrument or holding a bow and arrow.
The dial of the clock is often made of enamel or porcelain and is decorated with Roman numerals and ornate hands. The movement is usually an eight-day time and strike mechanism with a silk suspension system, which provides a smooth and accurate ticking sound.
Empire pendulum clocks with cupid figures were popular among the French bourgeoisie and aristocracy, who used them to add a touch of elegance and luxury to their homes. Today, they are highly sought-after collectibles for antique clock enthusiasts and lovers of 19th-century decorative arts.
Classicism and Empire at RSA Wiesbaden
You will find many classical furniture and objects of art from the Empire
in my shop in Wiesbaden. Regine Schmitz-Avila – your classicism and empire specialist for mirrors, tables and art.