Gouache view of Napoli
Nr. 436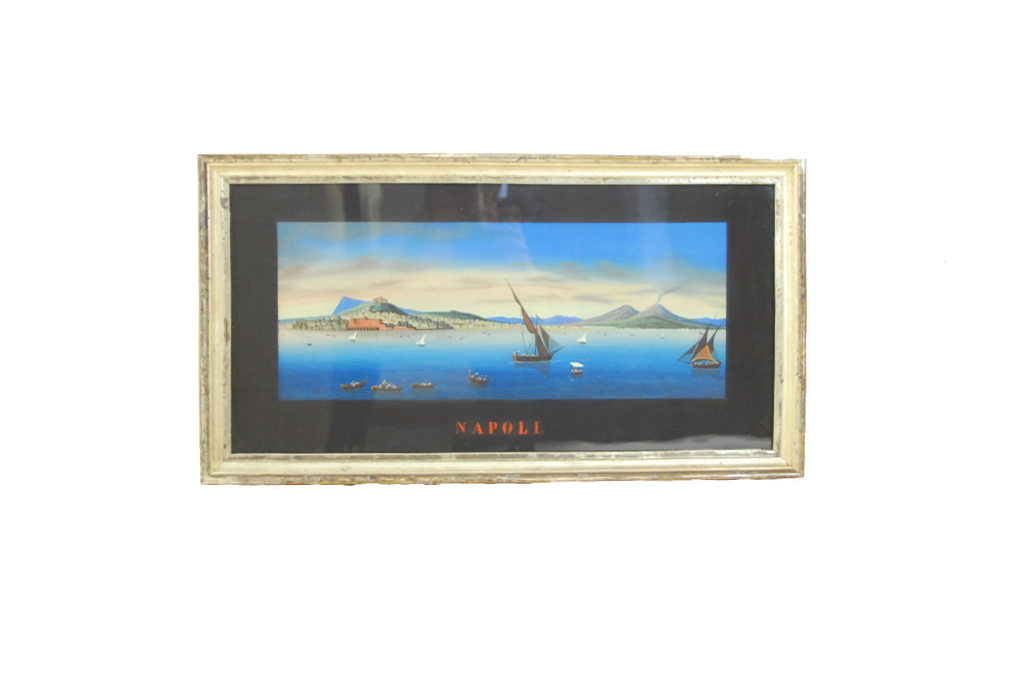 Gouache view of Napoli about 1820
Original "Berliner Leiste"
High: 35,5 cm
Width: 65,7 cm
Gouache view of Napoli
The description is of a painting depicting a view of Naples ( Napoli) around the year 1820. It may be a historical or artistic document that provides insights into the architecture, life, and culture of the city of Naples during this period. The painting features sailboats in a blue sea set against a black mat with the red lettering "NAPOLI." The frame is gold-colored.
Napoli in 1820 was a bustling port city, known for its rich cultural history, stunning architecture, and scenic views of the Bay of Naples. It was also a time of political upheaval in the city and throughout Italy, as various factions vied for power and independence. An artwork depicting Naples in 1820 could offer insights into the city's history, culture, and daily life during this time period, and may be of interest to art historians, historians, and those interested in Italian culture and history.
"Original Berliner Leiste"
"Original Berliner Leiste" refers to a specific type of molding used in framing artworks. It is a very narrow, flat molding typically made of wood, providing a minimalist frame for an artwork. The term "Original Berliner Leiste" refers to a specific style of molding made in Berlin that is known for its high quality and craftsmanship. The use of these moldings is popular in the framing of artworks, particularly modern and contemporary pieces.
Biedermeier at RSA Wiesbaden
You can find a wide selection of Biedermeier furniture and decorative art pieces.
Regine Schmitz-Avila – your Biedermeier specialist for cabinets, tables, and chests.