Biedermeier mirror pearwood 
Nr. 307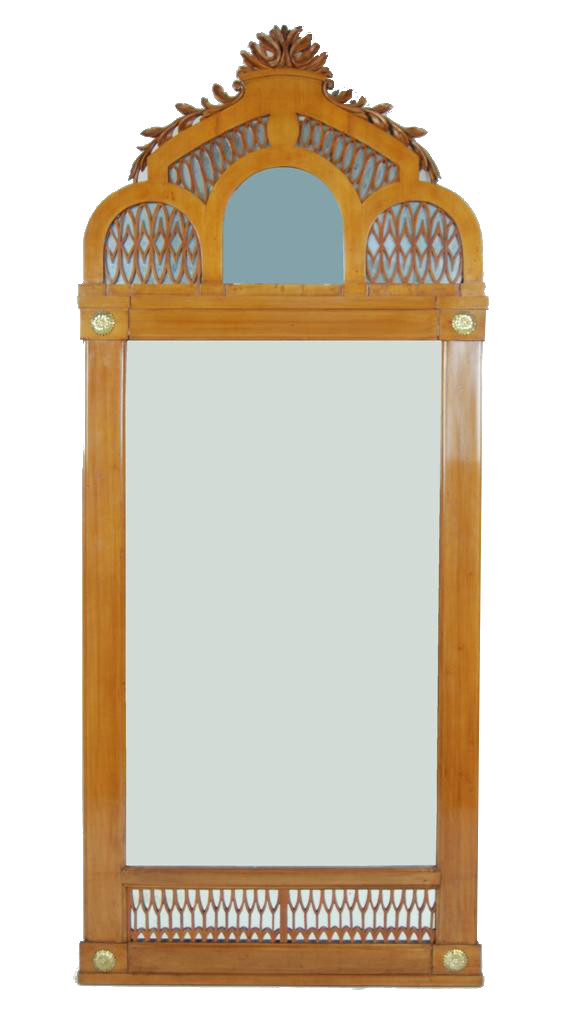 Biedermeier mirror pearwood.
Germany 1820.
Square frame with angle rosettes in gilding brass plate.
Crowned with a floral carving.
Original glass.
Height:
112 cm (44,09 inches)
Width:
46 cm (18,11 inches)
Biedermeier mirror pearwood
A Biedermeier mirror is a wall mirror designed in the Biedermeier style (circa 1815-1848). These mirrors were an important part of interior decoration in the Biedermeier style and were often used as a decorative element in living rooms, bedrooms, and hallways.
Biedermeier mirrors were typically rectangular and had frames made of fine woods such as cherry, pear, or mahogany. The frame was often designed in a simple and elegant style with a gentle curve at the corners. Sometimes decorative inlays, carvings, or gildings were added to embellish the frame.
The mirrors themselves were often large and provided a clear, unobstructed reflection. They were often backed with a protective layer of limestone or marble to stabilize and protect the mirror.
This pearwood mirror features a highly rectangular frame with corner rosettes in gilded, punched brass sheet. The base and curved gable are intricately carved with pierced ornaments and crowned with vegetable carvings surrounding original mirror glass.
Biedermeier at RSA Wiesbaden
You can find a wide selection of Biedermeier furniture and decorative art pieces.
Regine Schmitz-Avila – your Biedermeier specialist for cabinets, tables, and chests.