Tapestry signed Aubusson
Nr. 2205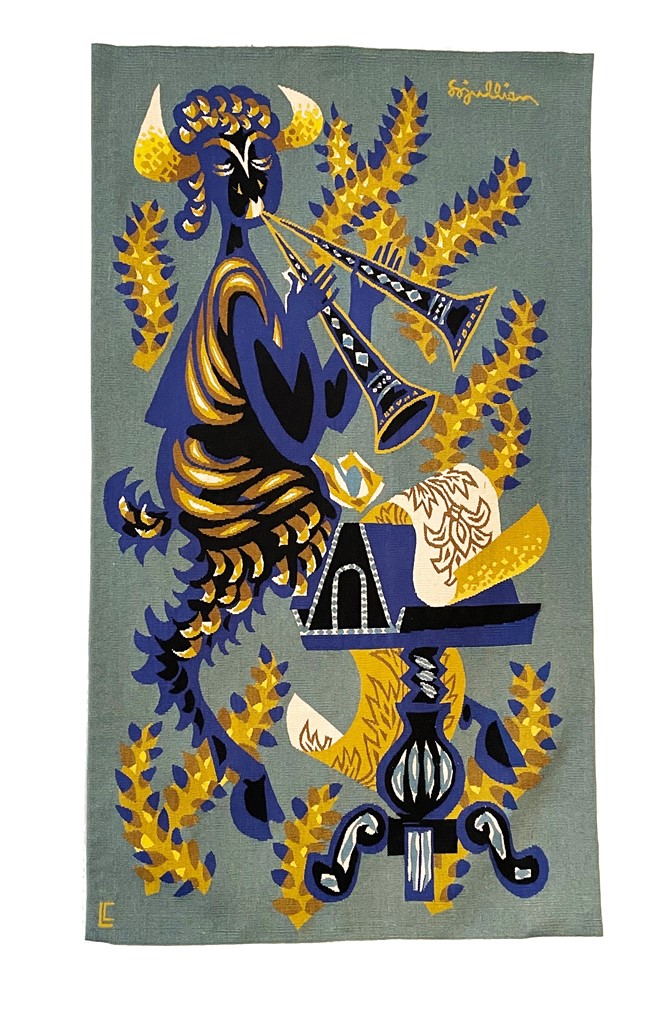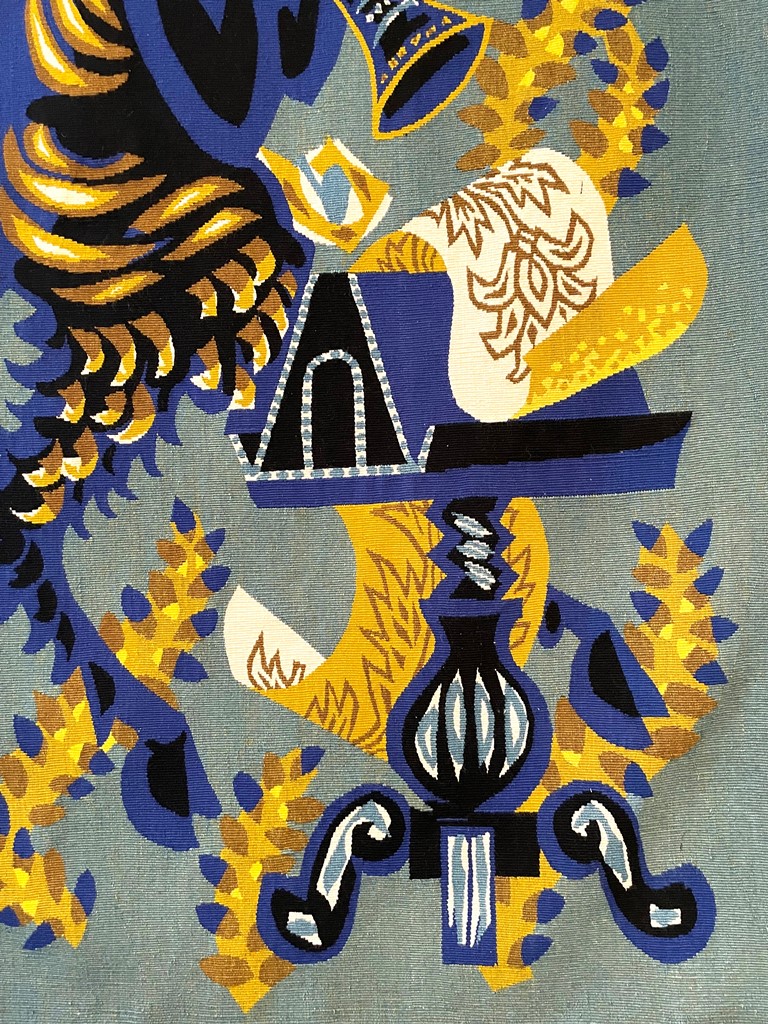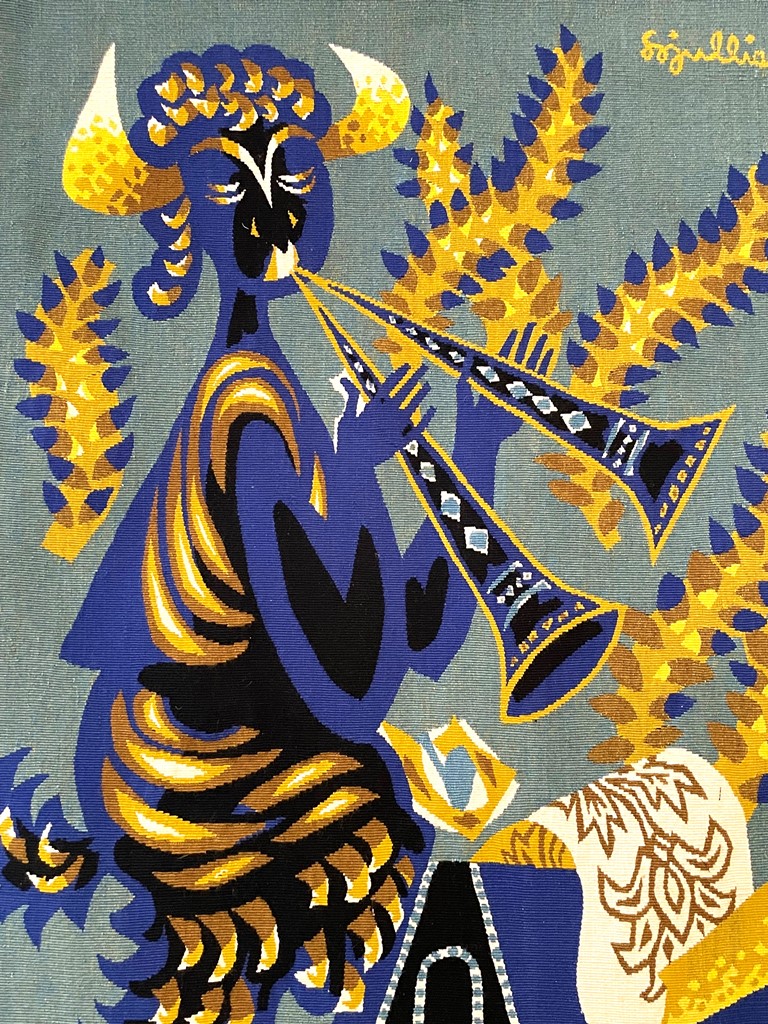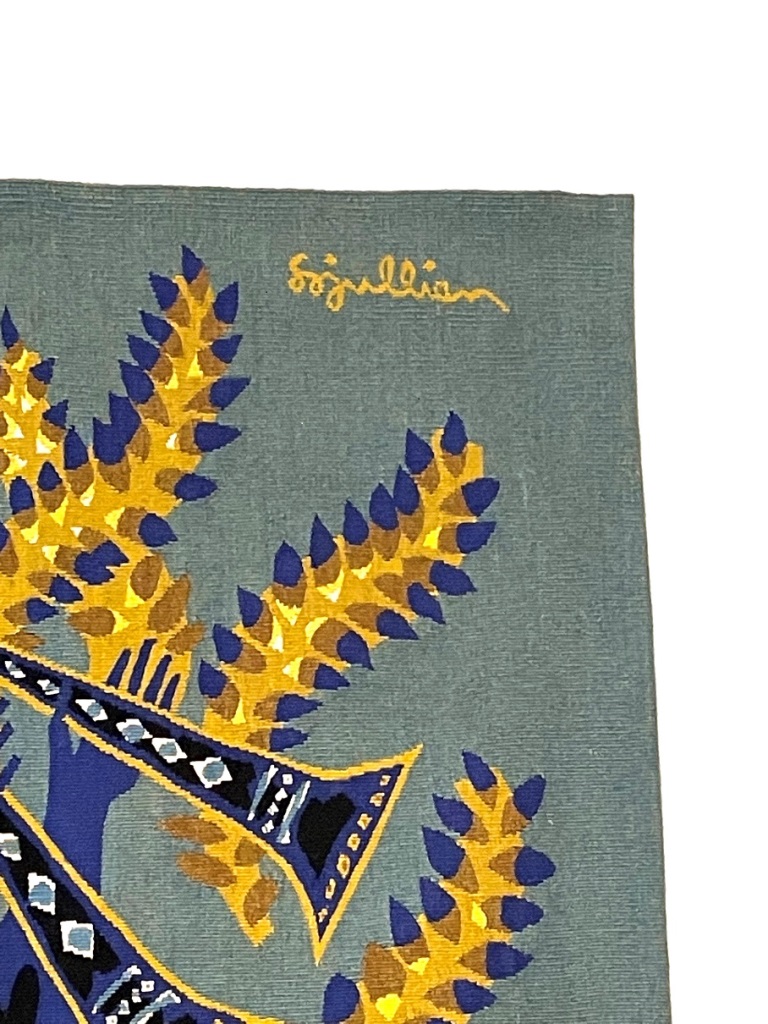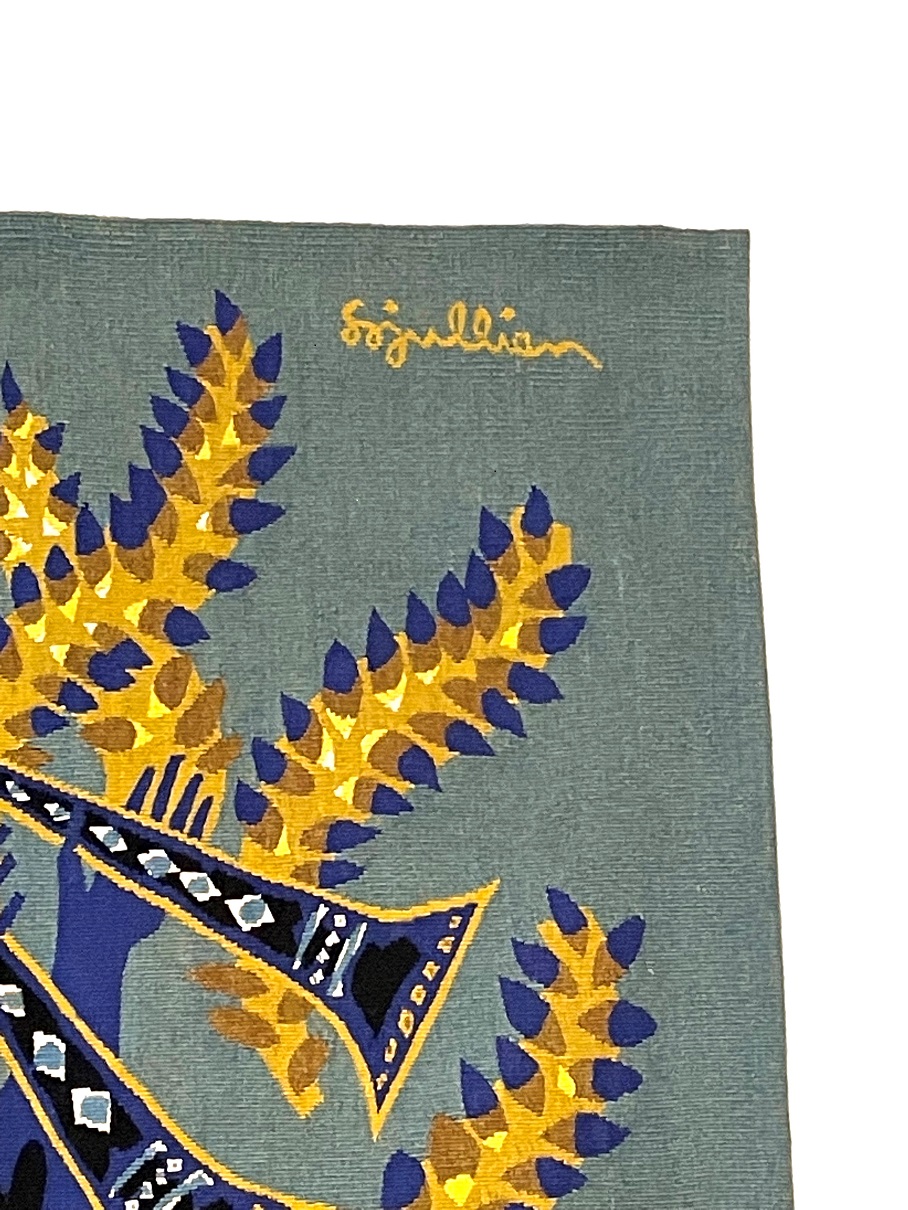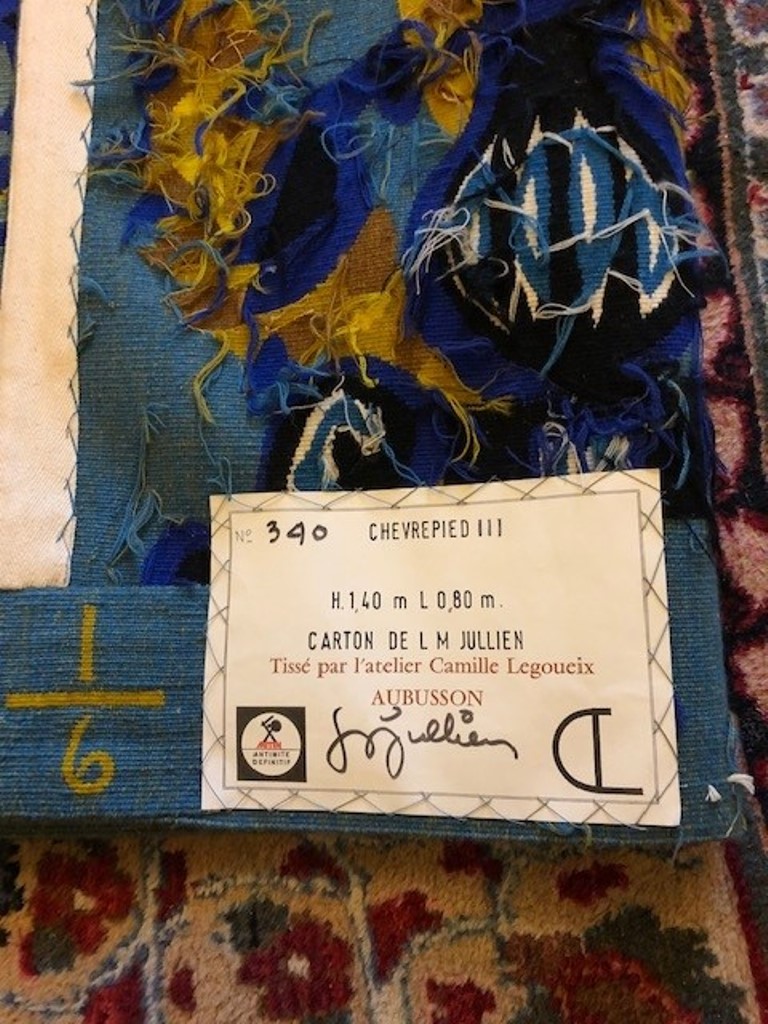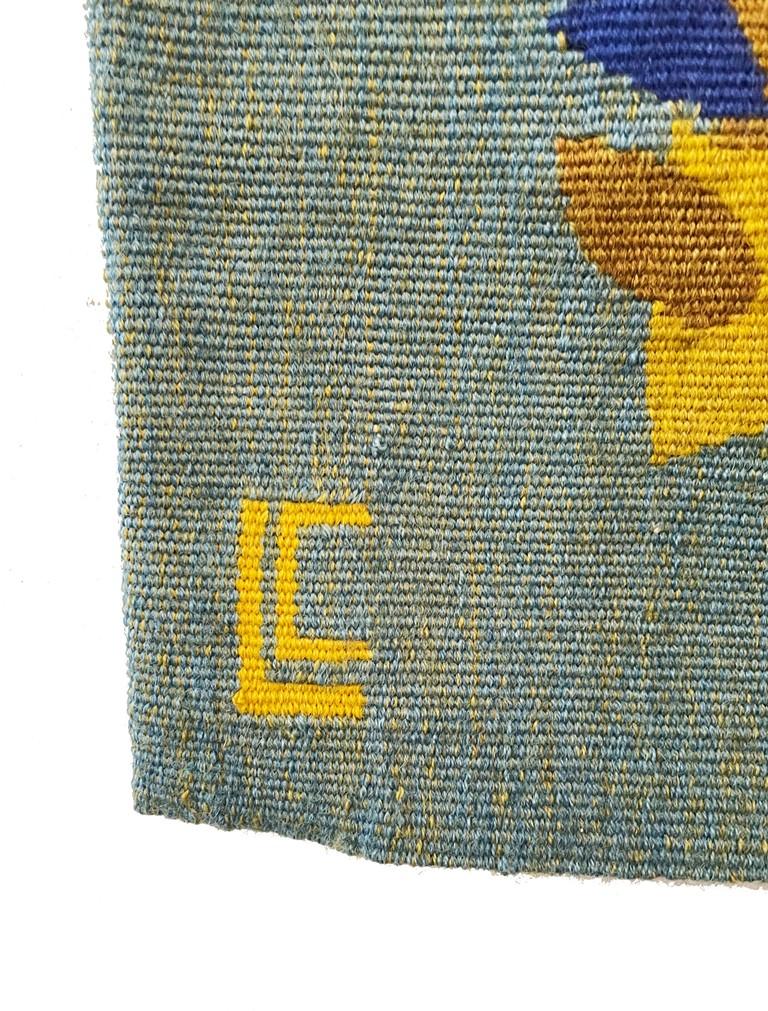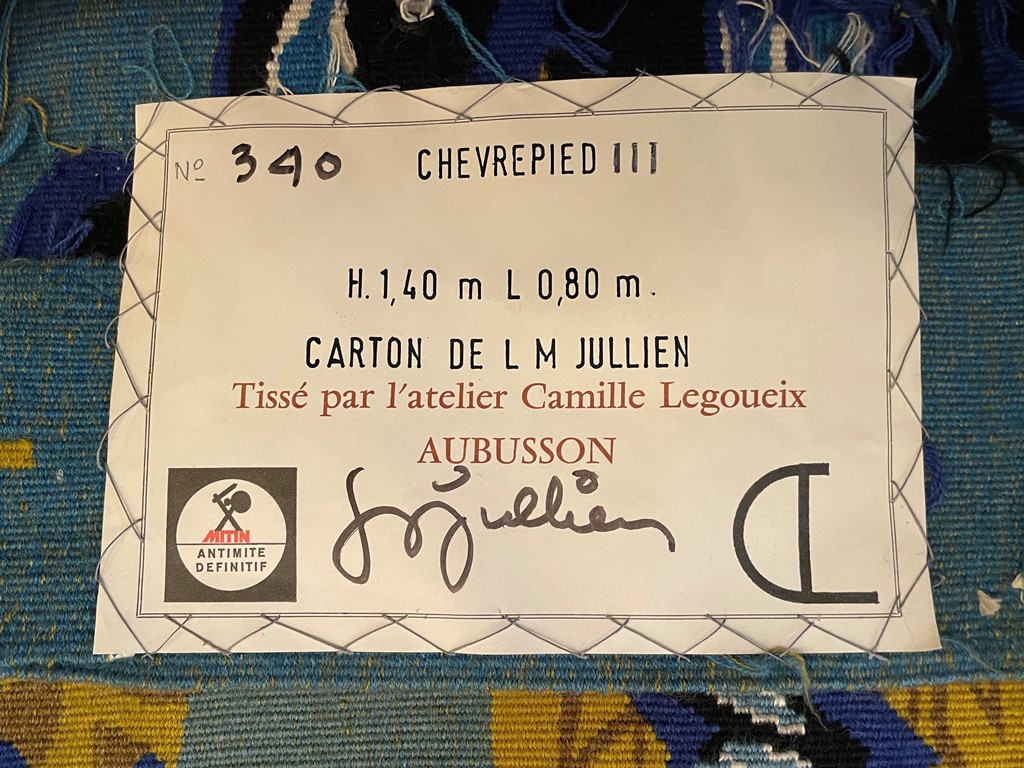 Tapestry signed Aubusson
"Chevrepied"
Aubusson tapestry woven in the workshop of Camille Legoueix. Signed: "LJullien".
Complete with signed label No. 1|6 on the back.
Bright colors, handmade, ca. 1960.
Height: 140 cm | Length: 80cm.
Louis-Marie JULLIEN (1904-1982) & Atelier Camille LEGOUEIX
TAPESTRY AUBUSSON polychrome wool
Signed and titled "Chevrepied" on the back label. Numbered 1/6
mid 20th century.
(140x80cm).
Tapestry signed Aubusson
It is a tapestry from Aubusson titled "Chèvrepied", woven in the workshop of Camille Legoueix and signed by an artist named "LJullien".
Camille Legoueix was a well-known French weaver of the 20th century, known for his work in the Aubusson tapestry industry.
Louis-Marie Jullien arrived in Aubusson in 1936 and actively participated in the renewal of tapestry following in the footsteps of Lurçat, Maingonnat, and Grommaire. His caricatures are a link between the dream worlds of Picart le Doux and Camille Saint-Saëns. Towards the end of his career, his art developed into abstraction, in keeping with the taste of the time.
The tapestry by Louis-Marie Jullien was handwoven, most of them in Aubusson (the Aubusson tapestry has also been listed as a UNESCO World Heritage Site since 2009), on a low warp loom, and published in a maximum of 8 copies.
"Chèvrepied" is a French term that means "goat's foot". It is possible that the design of the tapestry contains a pattern that resembles the footprint of a goat.
The signature "LJullien" could refer to the name of the artist who designed the tapestry's design. However, it is also possible that it is a false or erroneous signature.
The value of the tapestry depends on many factors, such as its condition, age, size, and rarity. If you want to determine the exact value of the tapestry, I recommend having it evaluated by an expert who is capable of providing an accurate assessment of the artwork.
Art Nouveau at RSA Wiesbaden
You will find more Art Nouveau artworks as well as many Art Deco furniture and art objects in my store in Wiesbaden. Regine Schmitz-Avila – your specialist for Art Nouveau and Art Deco.