Tapestry signed Aubusson
Nr. 2205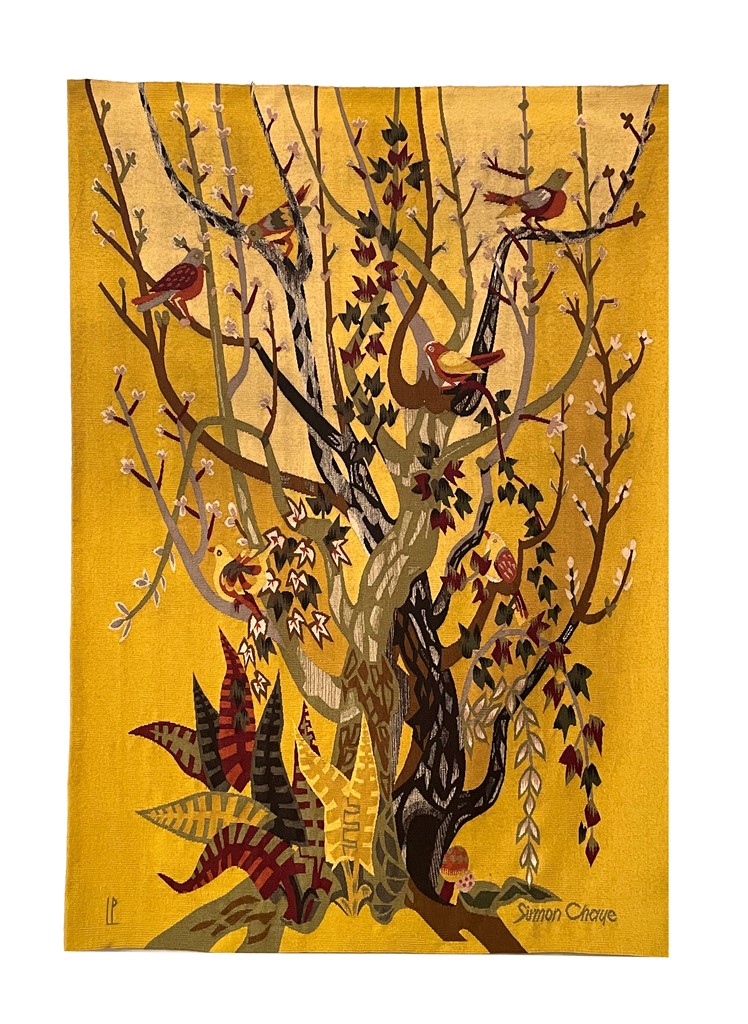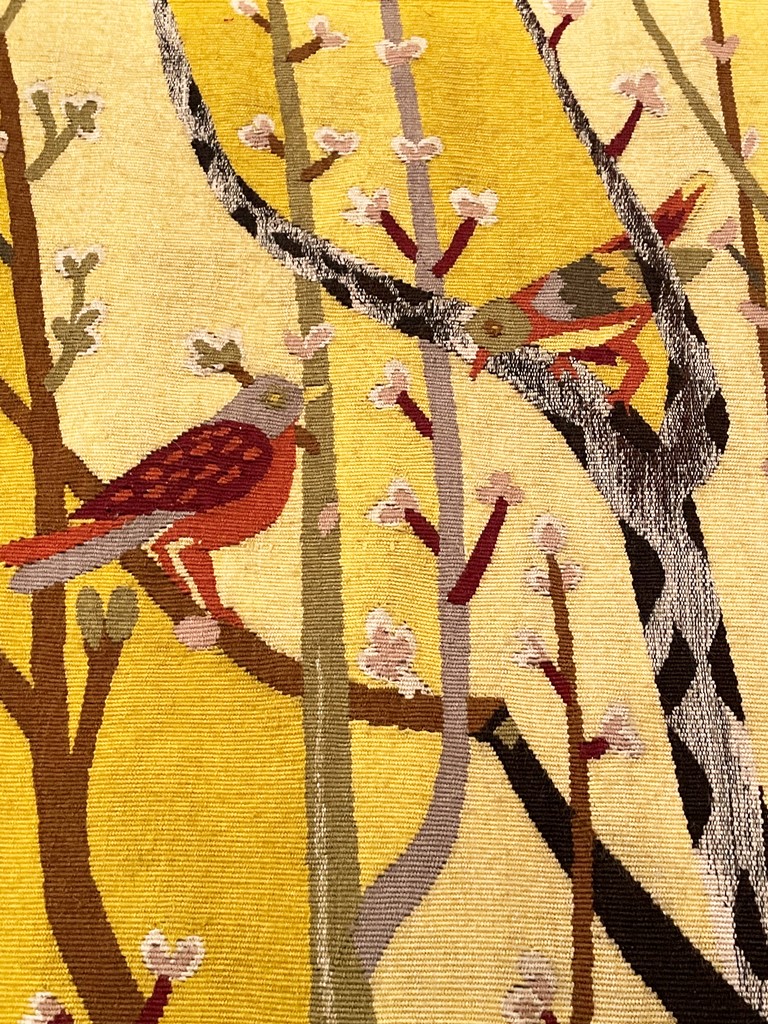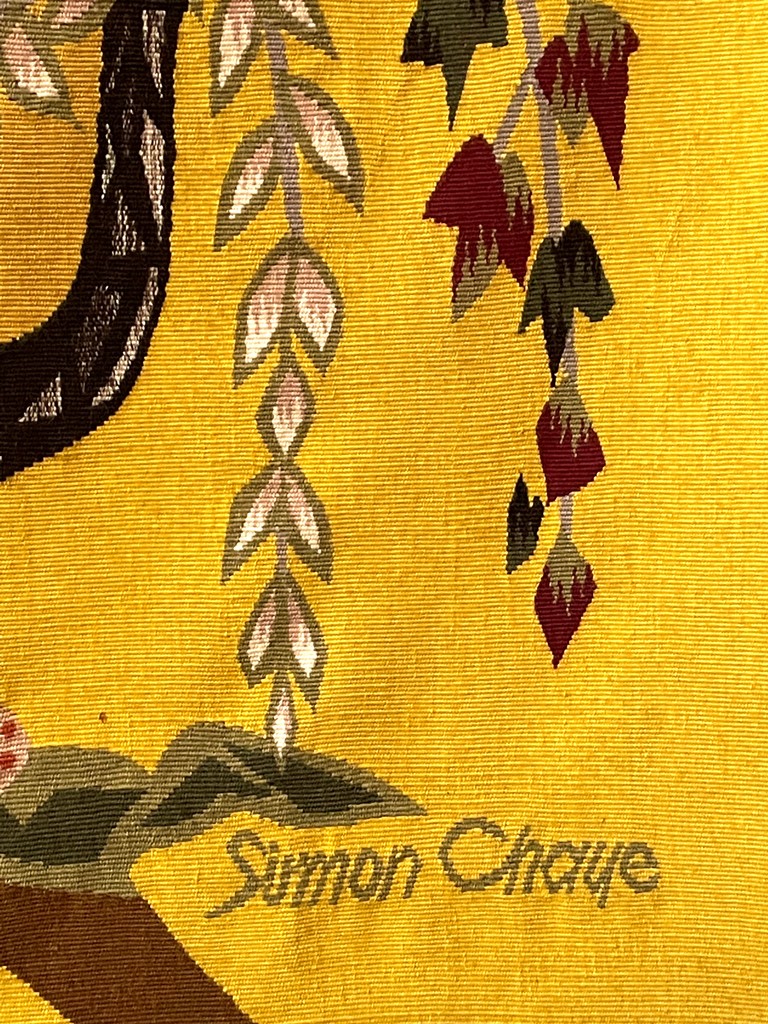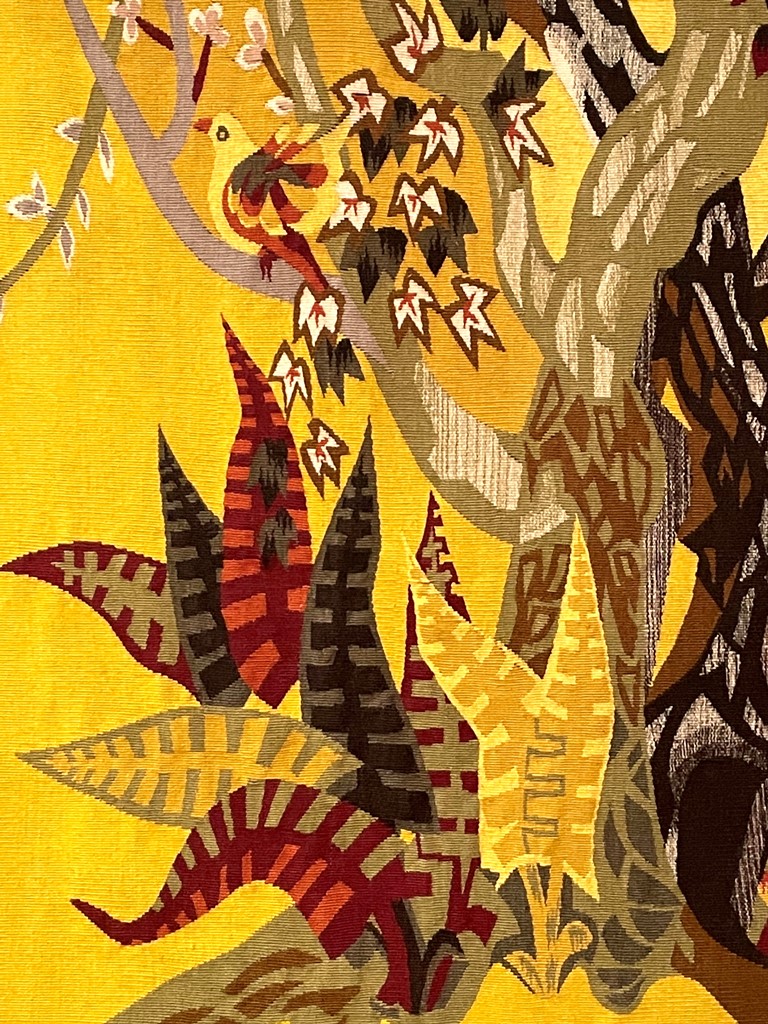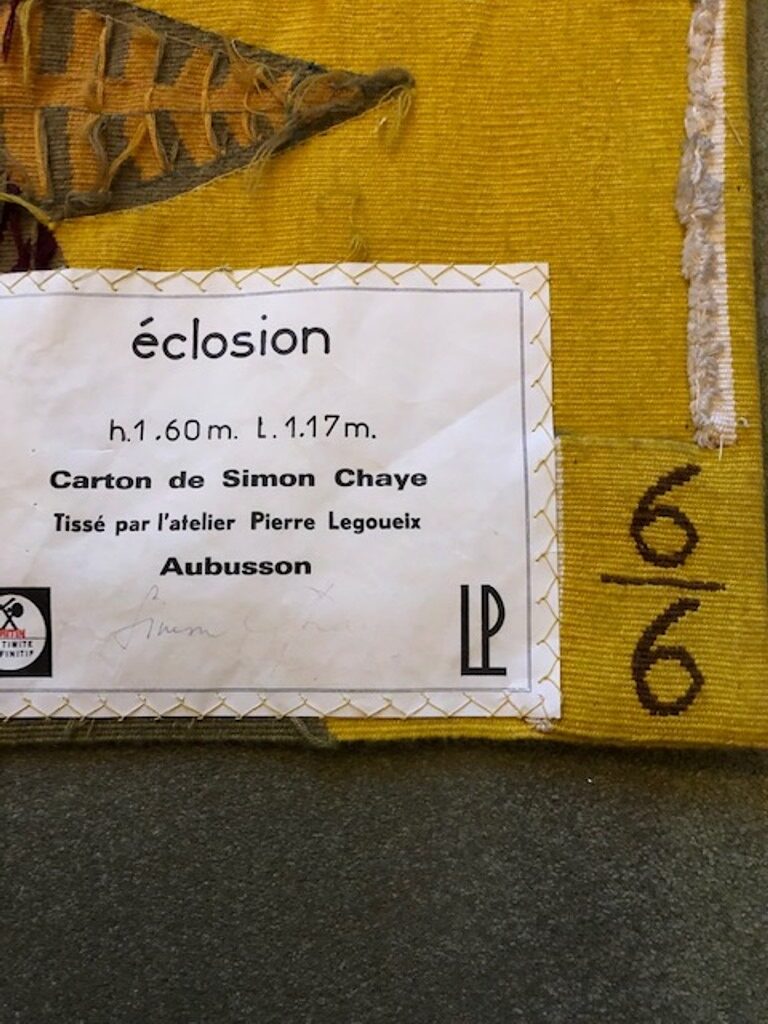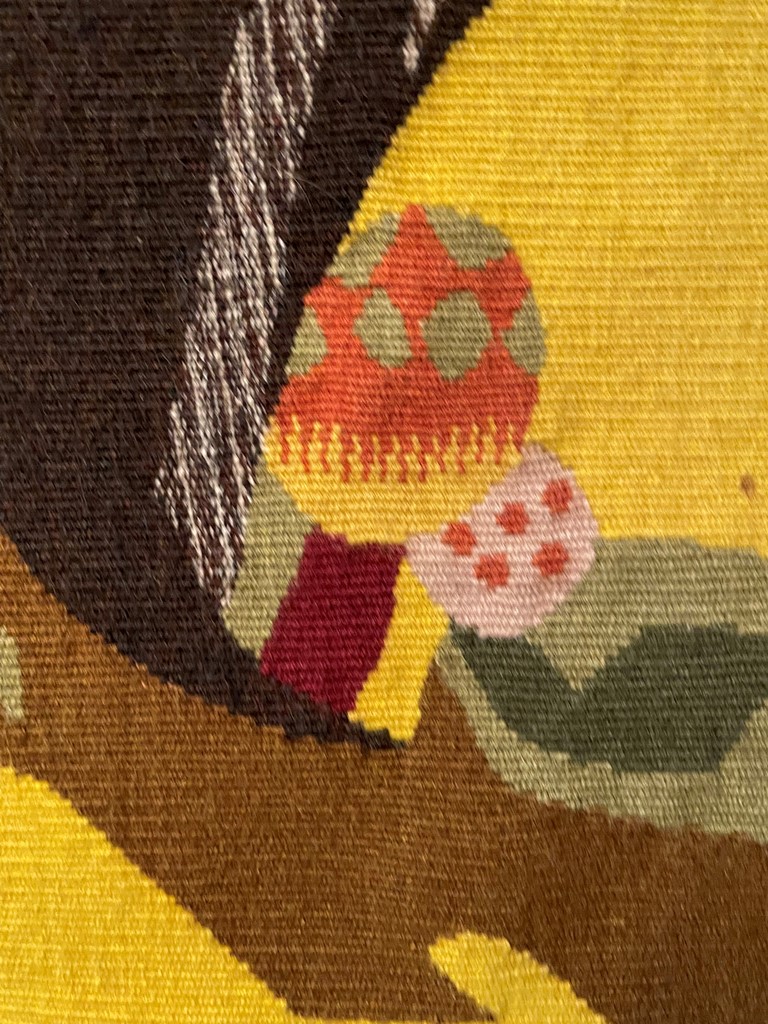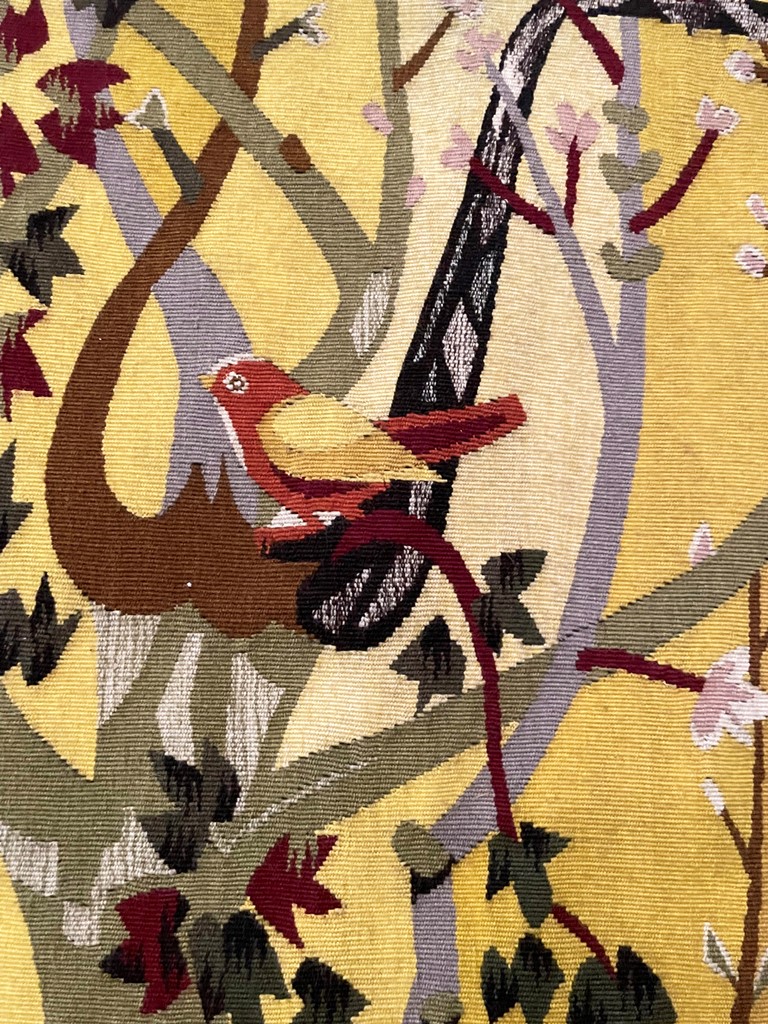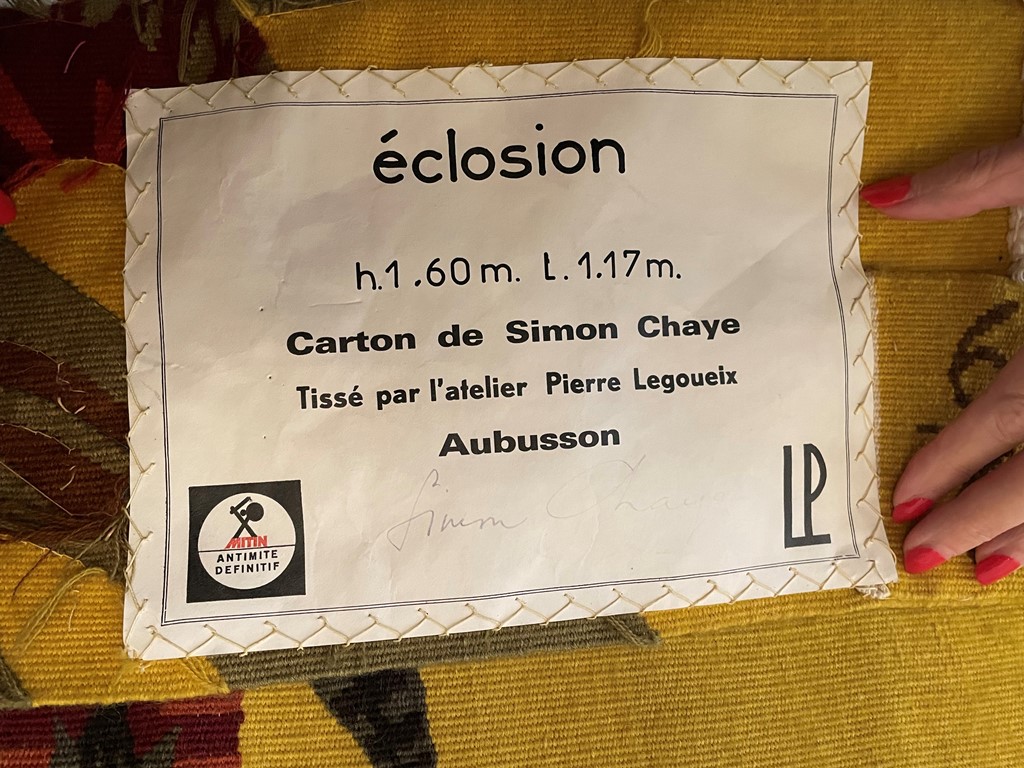 Tapestry Aubusson
"Eclosion", tapestry from Aubusson woven in the workshop of Pierre Legoueix. Signed: "S.Chaye"

"Eclosion"
Aubusson tapestry woven in the workshop of Pierre Legoueix. Signed: "S.Chaye".
Complete with signed label No. 6|6 on the back.
Bright colors, handmade, ca. 1960.
Height: 160 cm | Length: 117cm.
Simon Chayé & Atelier Pierre LEGOUEIX.
TAPESTRY AUBUSSON polychrome wool.
Signed and titled "Eclosion" on the back label. Numbered 6/6
mid 20th century.
(160x117cm).
Tapestry from Aubusson "Eclosion"
This is a tapestry woven in the workshop of Pierre Legoueix and signed by an artist named "S. Chaye". The title of the tapestry is "Eclosion," which means "Blossoming" or "Hatching" in German.
As previously mentioned, Pierre Legoueix was a French artist who lived and worked in the 20th century and was known for his work in Aubusson tapestry.
Simon CHAYE tapestry from Aubusson, woven by the workshop of Pierre Legoueix. With signed label around 1960.
In 1953, Jean Picart le Doux suggested that Chaye become his assistant and encouraged him to design Gobelin cartoons. He created numerous bucolic caricatures, as well as views of Normandy (Mont Saint Michel, Honfleur, regattas, etc.), where he originated from.
Here you can see a very typical work of this artist who specialized in trees, plants, and birds.
Aubusson tapestries are known for their high quality and artistic design. If the tapestry is indeed from the workshop of Pierre Legoueix and signed by a well-known artist, it may have considerable value. However, it is important to note that the value of a tapestry depends on many factors, such as its condition, age, size, and rarity. If you want to determine the exact value of the tapestry, I recommend having it appraised by an expert who is able to make an accurate assessment of the artwork.
Art Nouveau at RSA Wiesbaden
You will find more Art Nouveau artworks as well as many Art Deco furniture and art objects in my store in Wiesbaden. Regine Schmitz-Avila – your specialist for Art Nouveau and Art Deco.