Pair of rare wall appliques "Muller-Frères"
Nr. 2082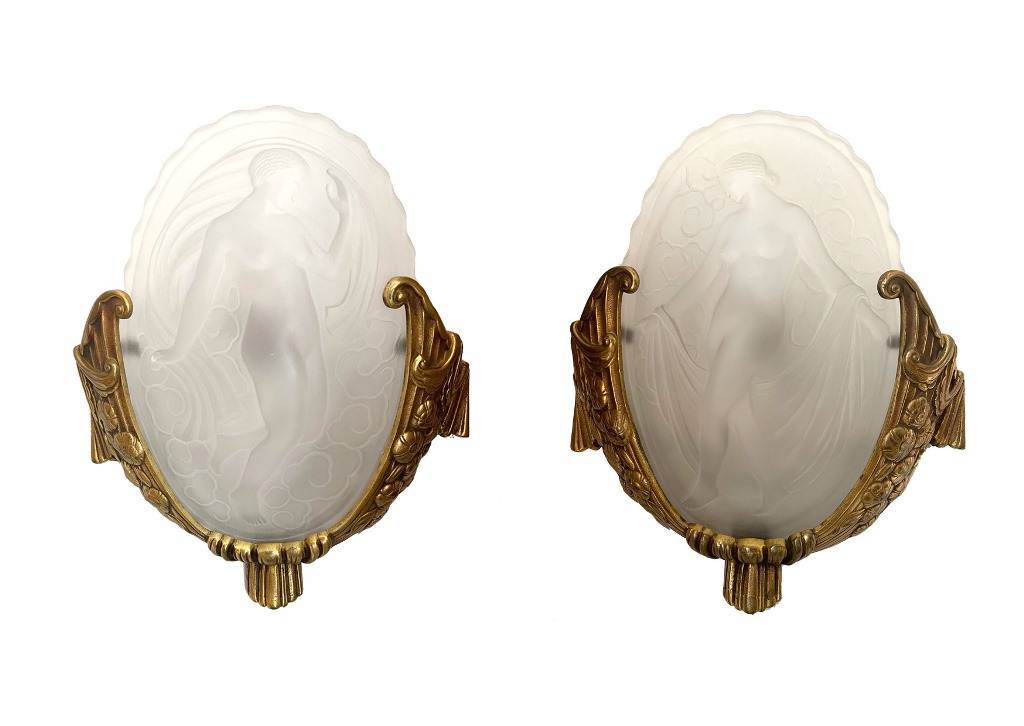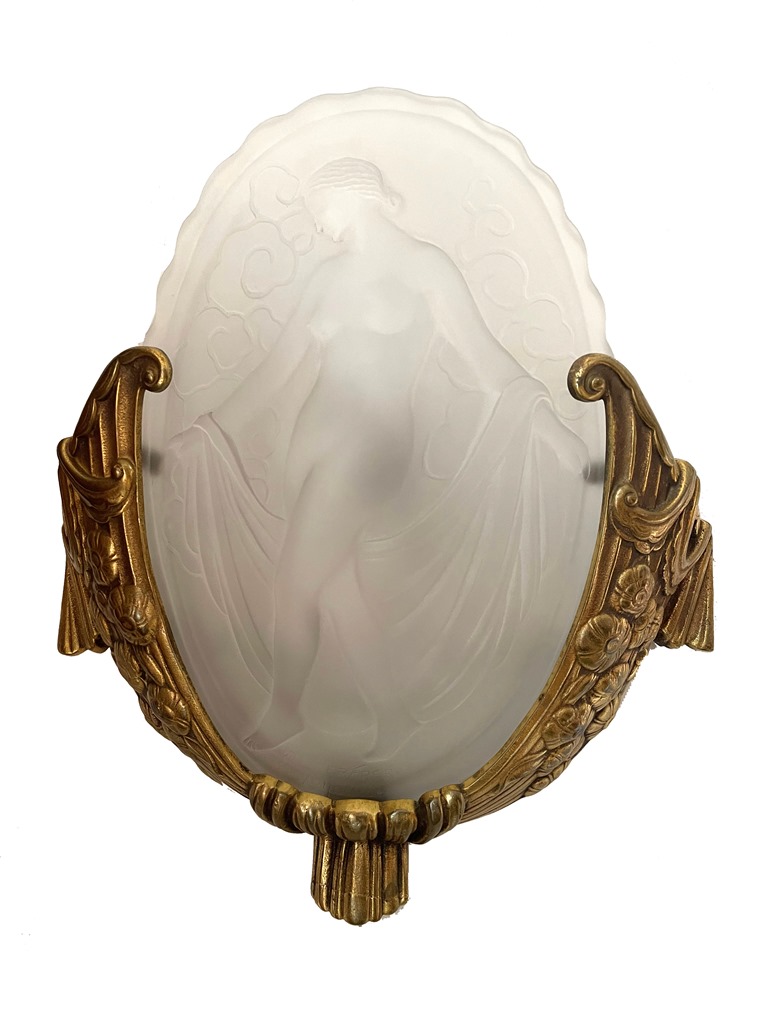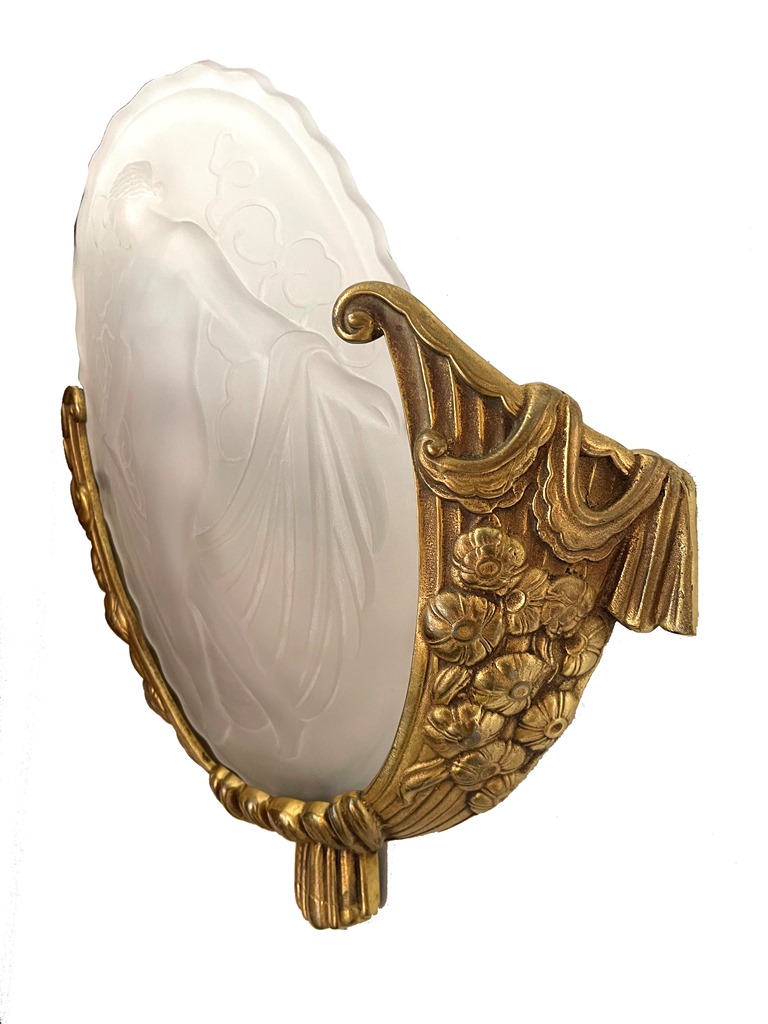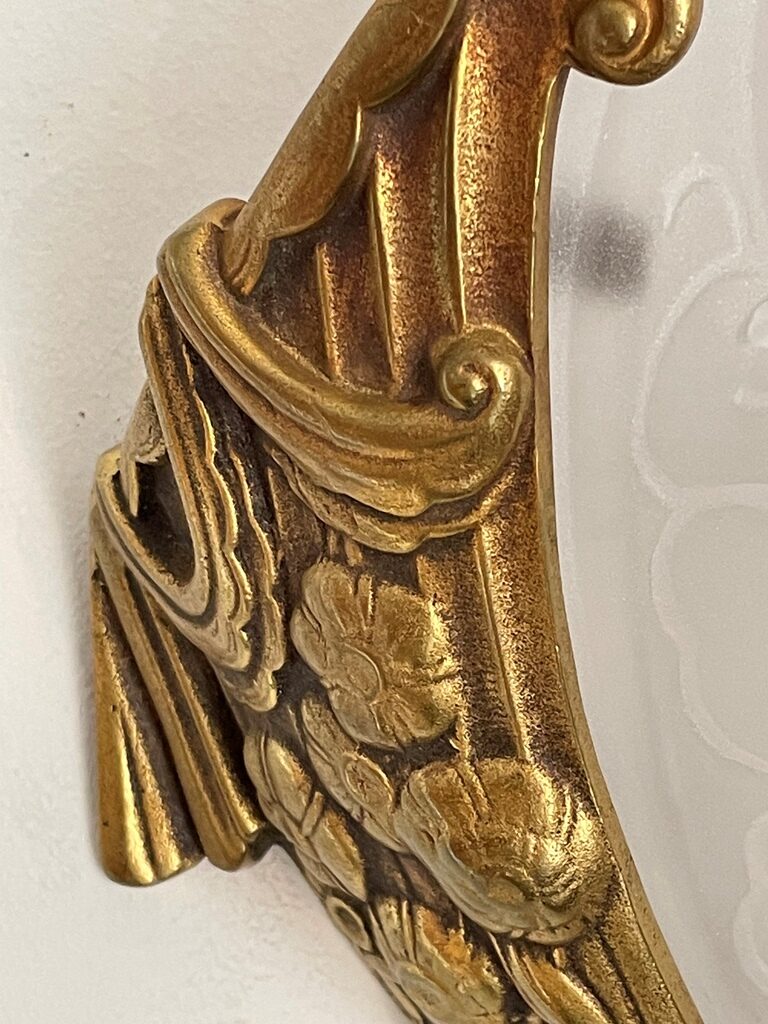 Pair of rare wall appliques.
Signed: Muller-Frère, Luneville
France circa 1925.
Fine forged and ornamented bronze gilded. Both glasses signed: " Muller-Frères, Luneville".
A light source . Original untouched and original state of preservation.
Height: 30 cm| Width: 26 cm Depth: 11cm
Muller-Frères Luneville
was a French manufacturer of Art Deco lighting and glassware, founded by the brothers Désiré, Eugène, Félix and Charles Müller in 1895. They started out as glassblowers and first worked for other glass companies before finally starting their own company.
The Muller-Frères Luneville company became known for their innovative designs and their ability to combine traditional techniques with modern elements. They produced a variety of lamps and lighting including wall lamps, table lamps, ceiling lamps and hanging lamps. Most of their products were made of glass and decorated with colored glass elements and floral motifs.
During the Art Deco period, Muller-Frères Luneville was one of the leading manufacturers of decorative lighting in Europe, supplying its products to customers all over the world. However, the company was badly hit by the effects of World War II and finally had to close in 1951.
Today, Muller-Frères Luneville lamps are sought after by collectors and art lovers for their beauty and historical importance. Many of their designs have become Art Deco icons and are still reproduced today by various manufacturers.
Wall bronzes were very popular in the Art Deco era (c. 1920-1930). They are decorative bronze wall hangings or panels, often decorated with stylized designs and geometric patterns.
These works of art were often produced in limited editions and signed by notable artists such as Paul Manship, Demétre Chiparus and Pierre Le Faguays.
Wall bronzes were an important part of Art Deco furnishings and were used in homes, hotels and public buildings to create a luxurious and modern atmosphere.
Although the Art Deco era is long gone, wall bronzes are still very popular with collectors and enthusiasts of this art form.
Art Deco at RSA Wiesbaden
You can find more Art Deco cabinets, Art Deco chests of drawers and Art Deco lamps in my shop in Wiesbaden. Regine Schmitz-Avila – your specialist for French Art Deco furniture and art objects from around 1930.