Little Bouillotte-lamp,sold
Nr. 172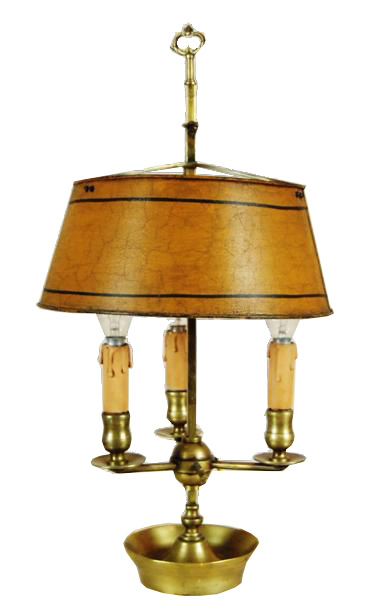 Little Bouillotte-lamp
Biedermeier.
France around 1840.
Brass, 3-armed, foot with high fluted edge
Height: 55 cm (21.7 inches) diameter: 27 cm (10.6 inches)
Saffron-yellow, height adjustable metal screen.
Price: 1.300,– €
(Differential taxation according to §25a UStG)
Little Bouillotte-lamp
Bouillotte lamps were originally designed in France in the 18th century as table lamps used for playing the card game bouillotte. The lamp was designed to provide a small pool of light for the players while they focused on their game.
In the 1960s, bouillotte lamps experienced a resurgence in popularity and were produced in a variety of styles and materials. These lamps typically featured a circular base with one or more candle-like lights surrounded by a metal shade with adjustable arms.
The metal shades on these lamps were often adorned with decorative elements such as tassels, finials, or other embellishments. They were available in a range of finishes, including brass, bronze, and silver, and were often paired with a patterned or solid-colored fabric shade.
Today, vintage bouillotte lamps from the 1960s are highly sought after by collectors and enthusiasts of mid-century design. They can be found in antique shops and online marketplaces, with prices ranging from a few hundred to several thousand dollars depending on their condition, rarity, and level of ornamentation.
Lamps at RSA Wiesbaden
You can find more lamps, Art Deco lamps, and other art objects in my store in Wiesbaden. Regine Schmitz-Avila – your specialist for artistic lighting.